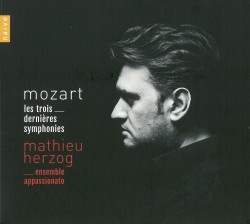 Mozart – The Three Last Symphonies
Ensemble Appassionato; Mathieu Herzog
Naïve V 5457 (naxosdirect.com)
A contemporary pace of living, especially in the metropolis, must include small pleasures in the form of art. Mozart's music might be one of those necessary delights in the lives of many. Although there are countless recordings of his works, it is exciting to discover new aspects of Mozart's music and this recording undoubtedly brings some new thoughts and sounds. I loved the spirited energy and the clear sound on this recording as well as the candour of the interpretations. Playfulness is interwoven with drama and expressed through resonant simplicity of sound – a perfect formula for bringing out the essence of Mozart's music.
What attracted French conductor Mathieu Herzog to this triptych is the fact that there is a certain mystery surrounding these symphonies – all three were written in the summer of 1788, when things were not looking too bright in Mozart's life. There is no evidence to suggest any of them were ever performed during the composer's lifetime and Mozart never again returned to this genre. No.39 and No.41 are warm, expansive and buoyant and No.40 is unusually dark and melancholic. There is a common thread though – all three are powerful masterpieces.
Ensemble Appassionato, founded by Herzog and comprised of leading French musicians, is on fire here – both bows and sparks are flying and the joy of the performance is thrilling. This recording is worth hearing, not because it might be perfect but because it just might surprise you.