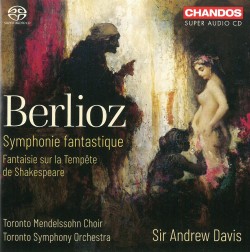 Berlioz – Symphonie fantastique; Tempest Fantasy
Toronto Symphony Orchestra; Sir Andrew Davis
Chandos CHSA 5239 (tso.ca/watch-listen)
Do we really need another Symphony fantastique? Not an unreasonable question. Many more than a few decades ago when the question was asked by a neophyte record producer, "How do you know what to record?," the experienced answer was "Look through the Schwann Record Catalog, find the most recorded work and make another one." That proved to be sage advice then.
There are countless recordings of the Symphonie fantastique available now, some outstanding performances and some sonic spectaculars. As far as performance is concerned, this new one is high in the outstanding category. The entire string section is splendid, "singing" immaculately together. The winds are a joy, from serene to bustling. The brass is burnished and the percussion can have fearful presence and power.
Davis' beat is steady, without being carried away emotionally, and ever true to the score, observing every nuance. I enjoyed it cerebrally as well as viscerally. Sonically, this is what audiophiles dream of. From piccolos to the lowest notes in the basses and thumping bass drum, to articulate strings and winds this is nirvana.
Equally impressing is the Tempest Fantasy with the orchestra and the Mendelssohn Choir in this Berlioz 14-minute showpiece in four parts: Prologue, The Tempest, Action and Dénouement. Those who know their Berlioz will recognize quotations from Lelio: the return to life, the sequel to the Symphonie fantastique.
If one were buying a Fantastique this could very well be it. It stands up to repeated hearings for, as I listened for some passages to critique, there were plenty of positives but no negatives that I heard.
This disc creates a gorgeous reality in an acoustic better than any seat in Roy Thomson Hall where these recordings were made on September 20-22, 2018.