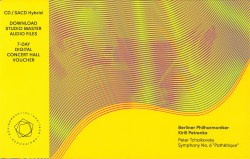 Tchaikovsky – Symphony No.6 "Pathétique"
Berliner Philharmoniker; Kirill Petrenko
Berliner Philharmoniker Recordings BPHR 190261 (berliner-philharmoniker-recordings.com)
Honestly, from the first bar of this performance I really felt aware of hearing the notes of this familiar symphony for the first time. After decades of hearing so many fine enhanced performances interpreted by a parade of esteemed conductors, I know the work well. None ever like this one. The essence of this performance comes from within the score and not from a conductor's opinion as to what should be added or left out to enhance the composer's wishes. What we hear here is a performance reflecting and respecting Tchaikovsky's printed score as it opens out. The interesting aspect of this version with Kirill Petrenko recorded on March 22-23, 2017, one of the first two published recordings from those sessions with his new orchestra, is that, until it is heard, one doesn't know what such a performance as this evokes. The saying that "you don't know what you're missing" is so true here.
No fiddling with the printed page, no shattering fortes nor wrung out tensions imposed by a creative, well-meaning interpreter to improve this perfect score. Petrenko displays a total empathy with the composer, making this debut an excellent choice for both conductor and orchestra.
Credit for this perfect CD/SACD/DSD recording must go to the regular Berlin Philharmonic team, recording producer and editor Christoph Franke and sound engineer René Möller. One could not imagine better sound in whichever mode you are listening. We know exactly who was playing and quite where they sat. Particularly telling are the textures of the just audible opening bassoon and the closing plucked basses. All with no spotlighting or enhancement. Repeated dedicated listening over the last few weeks confirms the first impressions.