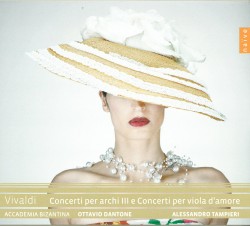 Vivaldi – Concerti per archi III; Concerti per viola d'amore
Accademia Bizantina; Ottavio Dantone; Alessandro Tampieri
Naïve OP 30570 (vivaldiedition.com)
When the Italian National Library in Turin purchased the collection of autograph manuscripts by Antonio Vivaldi in 1930, they acquired nearly 450 works by the great Venetian composer. The creation of the Italian musicologist Alberto Basso, the Vivaldi Edition project, then set out to record the works in their entirety. This beautiful and touching recording is part of that rich project. It contains 13 concertos for string orchestra and five concertos for viola d'amore, relatively unexplored repertoire but one very much worth the attention.
Vivaldi was a master of concertos for string orchestra without soloist and the ones on this recording are exciting and incredibly engaging miniatures. Each one contains a whole array of characters and emotions and is presented with flair and style. But the hidden gems are the viola d'amore concertos. Here we have the exuberant display of the full magnificence of this instrument – 12 strings, unusual timbres, resonant sound, chordal passages and tuning variations depending on the style and the key. Alessandro Tampieri is undeniably the master of his instrument. His playing is virtuosic, his sound heavenly and his execution perfectly precise. I have especially enjoyed the wild rustic cadenza of the third movement of Concerto RV 394 and the sublime Largo of the Concerto RV 393. Led by a fantastic harpsichordist, Ottavio Dantone, Accademia Bizantina's performance is energetic and passionate, making this recording one of my favourites.