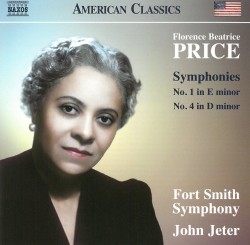 Florence Beatrice Price – Symphonies
Fort Smith Symphony Orchestra; John Jeter
Naxos 8.559827 (naxosdirect.com)
Florence Beatrice Price (née Smith) was an African-American composer born in Little Rock Arkansas in 1887. Her father was a dentist and her mother a music teacher. She received her solid musical education from her mother because the city's best-known tutors, uniformly and unapologetically white, refused to teach a person of colour. Her mother taught her well. So well that she gave her first piano performance when she was eight and aged 11 had her first published work.
Her mother wanted her to further her studies after graduating as valedictorian from high school, and as this was next to impossible in the South, she was enrolled in the New England Conservatory. There she was tutored in all the musical disciplines under the care of a faculty that included George Whitefield Chadwick. During that time her compositions included a string trio and a symphony. In 1906 she graduated with a diploma in organ and a teaching certificate.
She returned to Little Rock and began teaching in segregated academies in Arkansas and Georgia. She married attorney Thomas Jewell Price and moved back to Little Rock. Following a lynching in 1927 and amid general unease, the family moved to Chicago where Florence was to flourish and become a recognized member of the musical community. In 1932, her Symphony in E Minor won the first prize of $500 in the Rodman Wanamaker Competition sponsored by the National Federation of Music Clubs. The work attracted the interest of conductor Frederick Stock who led his Chicago Symphony Orchestra in the premiere public performance, the first time a major American orchestra had ever performed any piece written by an African-American woman.
Her symphonies are in the usual four movements. Symphony No.1 dates from 1932 and calls to mind the symphonic music of the era, most evoked being Dvořák, Edward MacDowell, Horatio Parker and George Whitefield Chadwick whose music I continue to enjoy. The first movement is a mighty statement running over 16 minutes. The grand second is an attractive largo of 12 minutes duration. In the third movement where one might normally expect to hear a scherzo, we are treated to a Juba Dance, based on the antebellum slave style, complex body percussion (foot stomping and chest patting) and syncopated melodies. The boisterous fourth movement is an appropriate closing.
The Fourth Symphony is similarly constructed with an Andante cantabile second movement à la Dvořák. The third movement is again a Juba Dance and the final movement, a mighty Scherzo. I am very interested in hearing more of Florence Price.