Péchés – Rossini Salons & Horn Virtuosi
Alessandro Denabian; Lucia Cirillo; Francesca Bacchetta
Passacaille 1039 (naxosdirect.com)
Luigi Legnani – Rossini Variations
Marcello Fantoni (guitar)
Naxos 8.573721 (naxos.com)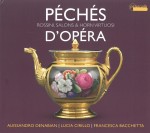 If you were an educated music-loving dilettante living in Italy during the early 19th century, musical evenings might well have been a primary source of entertainment. And if you happened to know a horn player, a soprano and someone adept at the keyboard, the pieces on the delightful new disc titled Péchés d'Opéra on the Passacaille label might well have been the type you would have chosen for an evening's program. It features natural horn player Alessandro Denabian, pianist Francesca Bacchetta (performing on an 1823 fortepiano) and mezzo-soprano Lucia Cirillo in an engaging program of duets and trios. Sins of Old Age was the name Rossini gave to numerous compositions for small ensembles he created long after he ceased writing operas. The charming and lyrical Prelude, Theme and Variations for horn and piano is one of them, which not surprisingly, has a very vocal quality about it. Denabian handles the virtuosic melodies with apparent ease, no mean feat on a natural (i.e. valveless) instrument. Less well-known composers include Antoine Clapisson and Frederic Duvernoy whose duets are performed with a particular bravado with Bacchetta providing a stylish and solid accompaniment. The group expands to include a soprano soloist in pieces such as Fuis, laisse-moi by Donizetti and the most familiar piece on the disc, Una furtiva lagrima from his opera L'elisir d'amore. Cirillo delivers a solid performance with well-balanced phrasing, subtly nuanced. My only quibble is that at times her voice tends to overshadow the other musicians, but in no way does this mar an otherwise fine performance.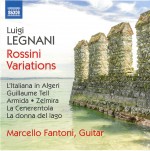 Remaining in the land of olive trees, a Naxos recording titled Rossini Variations presents music by Luigi Legnani, whose name is undoubtedly forgotten today. Nevertheless, during his lifetime, Legnani – an almost exact contemporary of Rossini – was famous as a virtuoso guitarist, composer and instrument maker. The disc features guitar transcriptions and variations on music from Rossini operas performed by guitarist Marcello Fantoni. To reduce full-scale orchestral works for a solo guitar would take considerable skill. Nevertheless, the enjoyment of this disc is twofold – not only are the compositions finely crafted, but they are also well performed. In Fantoni's competent hands, the guitar becomes a complex and expressive instrument, whether in the familiar overture to William Tell or the more obscure Variations on O quanto lagrime from La Donna del lago. While he possesses a formidable technique, his performance is never mere virtuosity; rather, he lets the music speak for itself.
Two fine discs with music from sunny Italy to cast away the winter darkness – both recommended.