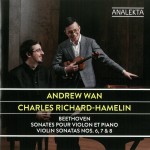 Violinist Andrew Wan was named concertmaster of the Orchestre symphonique de Montréal in 2008. A Juilliard graduate, he is currently assistant professor of violin at the Schulich School of Music at McGill University. He is paired with Quebec pianist Charles Richard-Hamelin in Beethoven Violin Sonatas Nos. 6, 7 & 8 (Analekta AN 2 8794 analekta.com/en/albums/beethoven-violin-sonatas-6-7-8)
There's a lovely warmth and sensitivity to the opening of the Sonata in A Major Op.30 No.1, with Wan's beautifully clear tone immediately making you feel that this is the start of something special – and so it proves to be. Richard-Hamelin is an outstanding partner, especially in the turbulent opening of the tempestuous Sonata in C Minor Op.30 No.2, a work in which Beethoven's growing use of increasingly intense textures is evident.
A dazzling performance of the Sonata in G Major Op.31 No.3 completes a terrific CD that is the first volume in a projected series of the complete Beethoven violin sonatas. It promises to be a set to treasure and one – if this first volume is anything to go by – that will hold its own against any competition.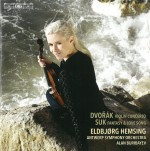 The Norwegian violinist Eldbjørg Hemsing is the soloist in three Czech works on Dvořák: Violin Concerto; Suk: Fantasy with the Antwerp Symphony Orchestra under Alan Buribayev (BIS-2246 bis.se naxosdirect.com/items/dvorák-suk-works-for-violin-orchestra-465767).
Hemsing displays brilliance of tone in a performance of the Dvořák Violin Concerto in A Minor Op.53 that is bright, energetic, rhythmic and full of life. It's a work that still doesn't have quite the prominence it deserves.
The violinist and composer Josef Suk was Dvořák's son-in-law. His Fantasy in G Minor Op.24 is the only concert work he wrote for his own instrument, and while quite different than the Dvořák in its episodic form is still clearly Czech through and through. Suk's Liebeslied Op.7 No.1 is one of his best-known single pieces; the first of a suite of six piano pieces, it is heard here in a very effective transcription for violin and orchestra by Stephan Koncz.
Buribayev draws really strong support from the Antwerp Symphony Orchestra players on a highly enjoyable CD.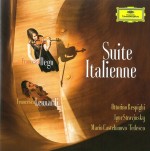 The Italian-American violinist Francesca Dego follows her hugely successful CD of violin concertos by Paganini and Wolf-Ferrari with Suite Italienne, a recital with her longtime collaborator the Italian pianist Francesca Leonardi of works by Ottorino Respighi, Igor Stravinsky and Mario Castelnuovo-Tedesco (Deutsche Grammophon DG481 7297 universalmusic.it/musica-classica/news/suite-italienne-il-nuovo-album-di-francesca-dego-e-francesca-leonardi_12077).
Respighi was himself a fine violinist, and his Sonata in B Minor Op.110 from 1917 is a striking work, written when he was struggling to overcome the depression brought on by the loss of his mother the previous year. A strong opening movement is followed by a particularly lovely and melodic Andante espressivo middle movement. And what a tone Dego possesses! It's lustrous, warm, rich and strong, and is more than balanced here by a lovely piano sound.
Stravinsky's Suite Italienne from his ballet Pulcinella is the central work on the disc, with the dance elements nicely realized, the Tarantella Vivace in particular.
Castelnuovo-Tedesco is represented by four works. His Ballade Op.107 was written for Tossy Spivakovsky and premiered by him at Carnegie Hall in 1940, after which it seems to have been overlooked and forgotten until Dego recovered it for this recording earlier this year with the help of the composer's granddaughter Diana Castelnuovo-Tedesco. It's a lovely work that hopefully will stay in the repertoire. Three of Castelnuovo-Tedesco's short operatic transcriptions complete the recital: the rather-Paganini-like Rosina and the playful and virtuosic Figaro from Rossini's Il barbiere di Siviglia; and Violetta from Verdi's La Traviata. All but the latter of the Castelnuovo-Tedesco works are world premiere recordings.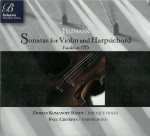 Georg Philipp Telemann was not only one of the most prolific composers in musical history but also one of the most cosmopolitan. Some idea of the wide range of national styles and idioms he incorporated in his music can be discerned from Telemann Sonatas for Violin and Harpsichord, a new CD featuring Baroque violinist Dorian Komanoff Bandy and harpsichordist Paul Cienniwa (Whaling City Sound WCS 108 whalingcitysound.com).
The six sonatas from 1715 were written specifically for violin and harpsichord – no cello continuo here, as in some recordings – and although they all have the same slow/fast/slow/fast four-movement format they are wide-ranging in idiom and expression. In addition there is a world premiere recording of the unpublished Sonata in F-sharp Minor, a fascinating piece described by Bandy as "a strange convention-defying work" that "seems more an unfinished experiment than a polished piece of music." His excellent and insightful booklet notes refer to these sonatas as truly distinct, each one unique, daring and extraordinary in its own way.
Bandy plays with a minimum of vibrato, which allows his excellent definition, clarity and agility to be displayed to best advantage. Cienniwa's playing provides a stylish accompaniment, the harpsichord never too percussive or prominent.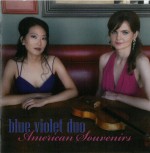 American Souvenirs is the debut recording by the Chicago-based Blue Violet Duo of American violinist Kate Carter and Canadian pianist Louise Chan. Described as an album of jazz, blues and dance-influenced classical works from the mid-to-late 20th century, it features works by Norman Dello Joio, William Bolcom, John Adams and Paul Schoenfeld (bluevioletduo.com).
Dello Joio's Variations and Capriccio from 1948 and Bolcom's four-movement 1978 Second Sonata for Violin and Piano are really attractive works, the Bolcom offering a dreamy and surprisingly atonal violin line over a slow blues piano in the opening movement, a "Brutal, Fast" second movement and a finale In Memory of Joe Venuti.
Adams' three-movement Road Movies from 1995 is in his minimalist style but highly entertaining, with a Relaxed Groove opening movement and a terrific third movement. Schoenfeld's 1990 Four Souvenirs for Violin and Piano are titled Samba, Tango, Tin Pan Alley and Square Dance, with Carter supplying some simply gorgeous violin playing in the Tango. Some virtuosic playing from both performers in the final Square Dance makes for a great ending to an immensely enjoyable CD.
The duo says that they love performing lesser-known works that are fun and playful yet virtuosic, and that those here are among their favourites by American composers. It's abundantly clear that they are in their element here, fully at ease and seamlessly blending classical performing standards with the freer popular styles.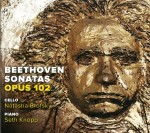 There are two excellent cello and piano recital CDs this month: Beethoven Sonatas Op.102 with cellist Natasha Brofsky and pianist Seth Knopp (independent store.cdbaby.com/cd/natashabrofskyandsethknopp); and Brahms Cello Sonatas with the husband-and-wife Fischer Duo of cellist Norman Fischer and pianist Jeanne Kierman (Centaur CRC 3648 arkivmusic.com).
Brofsky and Knopp were both members of the Peabody Trio for nearly two decades and clearly have an innate understanding of these sonatas, having played and taught them for many years. Brofsky, currently on the cello faculty at Juilliard, plays with assured technique and a warm, even tone in the two works, the Sonatas Op.102 No.1 in C Major and Op.102 No.2 in D Major. These sonatas, the duo says, have challenged them to use their utmost imagination in colour and expression. At 36 minutes it's a fairly brief CD, but none the less satisfying for that.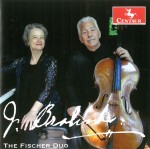 The Fischer Duo CD features the two cello sonatas by Brahms – the E-Minor Sonata Op.38 and the F-Major Sonata Op.99, works the performers have been playing for nearly five decades. Again, the understanding and familiarity with both the works and each other make for truly satisfying performances. Fischer says that the exemplary recorded sound made the performances sound "exactly the way I imagine the music." Two Songs for Alto, Cello and Piano Op.91 complete the disc, the duo being joined by their daughter, the mezzo-soprano Abigail Fischer in sensitive performances.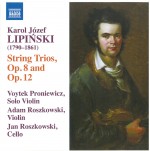 The Polish composer and violin virtuoso Karol Józef Lipiński was a direct contemporary of Paganini, and good enough to not only play with the great Italian but also to be bequeathed one of his eight violins – an Amati – when Paganini died. In his compositions, however, while incorporating the technical innovations of Paganini and the other 19th-century virtuosi, his musical philosophy showed a preference for the less purely virtuosic approach of Spohr and the French school exemplified by Viotti.
Lipiński String Trios Op.8 and Op.12 (Naxos 8.573776 naxosdirect.com/items/lipinski-trios-for-2-violins-cello-opp.-8-12-457581) features Voytek Proniewicz (primo violin), Adam Roszkowski (violin) and Jan Roszkowski (cello) in first-class performances of two works that, according to Lipiński's biographer, were possibly written for home performance and consequently lack the virtuosic element. Not that you would know it. The G-Minor Trio Op.8 features fast runs, octaves and chromatic runs, including one in octaves. Don't try this at home. The A-Major Trio Op.12 doesn't sound that much easier, either.
There's great playing here – lively, passionate, skillful, committed and always entertaining in charming works that are light but never facile or frivolous.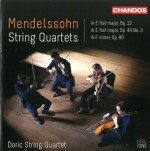 Mendelssohn String Quartets Vol.1, presumably the start of a projected complete series, features Britain's Doric String Quartet in superb performances of the quartets No.1 in E-flat Major Op.12, No.5 in E-flat Major Op.44 No.3 and No.6 in F Minor Op.80 (Chandos CHAN 20122(2) chandos.net). The playing is always clear and balanced, with dazzling agility in the numerous typically Mendelssohnian scherzo-like passages, and with terrific dynamics. The bustling dramatic start to the grief- and despair-ridden Op.80 quartet sets the tone for the whole work.
It's an outstanding start to the series, and the remaining quartets should be well worth waiting for.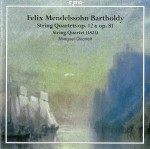 The Op.12 quartet is also included on Felix Mendelssohn Bartholdy String Quartets Vol.2, the latest release in the ongoing complete series by Germany's Minguet Quartett (cpo 777 931-2 arkivmusic.com). Also included are the early String Quartet in E-flat Major, the 14-year-old composer's first attempt in the genre, and the Four Pieces for String Quartet Op.81, published posthumously as String Quartet No.7 but actually four movements ranging from 1827 to 1847 that are not connected, although two of them may possibly have been intended for an eighth quartet.
There's fine playing here too, with tempos in the String Quartet No.1, Op.12 very close to those on the Doric CD, but the recording seems to have been made in a livelier acoustic space. Some listeners may well prefer this, but I found the Doric discs to have a cleaner and clearer sound, with the dynamic range more clearly nuanced and effective.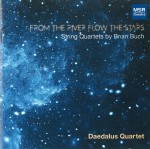 On From the River Flow the Stars the Daedalus Quartet plays string quartets by the American composer Brian Buch (MSR Classics MS 1681 msrcd.com/catalog/cd/MS1681). Buch says that he often composes music in collections or books comprised of individual pieces, and extracts from five such books are included here. From the River Flow the Stars No.6, Acanthus Leaves No.6 and Landscapes No.1 are all three-movement works; Maze of Infinite Forms No.1 is in two movements, and Life and Opinions No.7, the central work on the CD, in five.
They are all interesting and inventive pieces that create contrasting atmospheres, although their relative brevity – 12 of the 16 movements are under four minutes in length – may perhaps contribute to their not always leaving a strong impression.
The Daedalus Quartet is known for its work with and support of contemporary American composers, and it's difficult to imagine these works receiving more sympathetic performances.