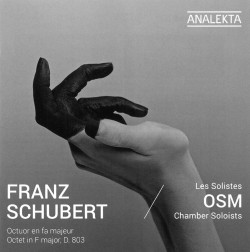 Schubert – Octet in F Major, D.803
OSM Chamber Soloists
Analekta AN 2 8799 (analekta.com/en/albums/schubert-octet-in-f-major-d-803)
Schubert's largest chamber work, the Octet, was composed in 1824, during a deeply creative period in his life that also gave birth to two other major chamber works – the string quartets Death and the Maiden and Rosamunde. Although they share similar combinations of splendour and elegance, the Octet seems to be both more ceremonious in form and more optimistic in nature and, as such, a relevant choice for OSM Chamber Soloists' second album. Having released their recording of Beethoven's Septet in E-flat major in January 2018, the OSM Chamber Soloists chose the work that was inspired by Beethoven's Septet as their next project. These two classic gems have many parallels, including instrumentation, the number of movements, key relationships and general character. Structured in six strong movements, the Octet features many of Schubert's signature marks such as prominent dotted rhythms, dramatic momentum and sumptuous melodies. The fourth movement, Andante – variations, is especially captivating with its sublime transitions between the variations.
The OSM Chamber Soloists (comprising members of the Orchestre symphonique de Montréal) is a splendid ensemble. Each instrumentalist has a distinct character of their own but the synergy of the ensemble, the osmosis of the musical ideas, is extraordinary. I have been a fan of the violinist Andrew Wan for quite some time and his playing and leadership on this album is exceptionally strong. The rest of the ensemble is just as impressive. Olivier Thouin (violin), Victor Fournelle-Blain (viola), Brian Manker (cello), Ali Kian Yazdanfar (double bass), Todd Cope (clarinet), Stéphane Lévesque (bassoon) and John Zirbel (horn) have collectively created a colourful aural portrait of a unique work.