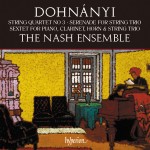 The chamber music of the Hungarian composer Ernő Dohnányi is featured in outstanding performances by the Nash Ensemble on a new Hyperion CD (CDA68215 hyperion-records.co.uk).
Dohnányi was a central figure in Hungarian musical life in the 1930s, but unfounded Nazi sympathiser accusations by the post-war Communist government essentially destroyed his reputation. It was not until the 1990s that it began to recover.
The works here are from three periods of Dohnányi's career. The Serenade in C major for string trio Op.10 is an early work, inventive, masterful and humorous. The String Quartet No.3 in A Minor Op.33 is a nationalistic and modernist work from 1926, the composer having returned to Hungary from Berlin at the start of the First World War.
The absolute gem here, though, is the Sextet in C major for piano, clarinet, horn and string trio Op.37 from 1935, the last chamber work Dohnányi completed. It's absolutely stunning, with writing that's brilliant and passionate throughout – at times overwhelmingly so. The incredible performance here simply takes your breath away.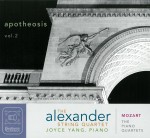 Pianist Joyce Yang joins members of the Alexander String Quartet – violinist Zakarias Grafilo, violist Paul Yarbrough and cellist Sandy Wilson – in Apotheosis: Mozart Vol.2 The Piano Quartets (Foghorn Classics CD2018 FoghornClassics.com). Volume 1 featured the Late String Quartets, and Volume 3 will feature the Late Quintets.
Mozart was not the first to write quartets for piano and strings, but his two contributions – the Piano Quartet in G Minor K478 and Piano Quartet in E-flat Major K493 from 1785 and 1786 respectively – are the first two great works in the genre. They are given simply beautiful performances here, with sensitive, expressive playing all round. The outstanding Yang plays with crystal-clear articulation and a fine sense of melodic line and phrase; the string playing – as one would expect from this ensemble founded in 1981 – is warm and stylish, with generous but never excessive vibrato.
The recorded sound, ambience and balance are all that you could wish for.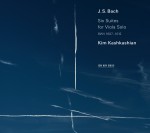 There's another quite outstanding set of the Bach Cello Suites in the version for viola on J. S. Bach Six Suites for Viola Solo BWV1007-1012 with American violist Kim Kashkashian (ECM New Series ECM2553/54 ecmrecords.com). The viola is tuned an octave above the cello, so this arrangement, while not altering the music's physical relation with the instrument, creates a different range of tonal colour.
Kashkashian plays a modern viola by Stefan-Peter Greiner and – for Suite V – a 1989 five-string viola by Francesco Bissolotti. Both instruments have a glowing, lustrous tone.
Kashkashian plays these dance suites with an unerring sense of movement, with faultless technique, and with warmth, flexibility, smoothness and a controlled emotionality that mines the depths of these remarkable creations.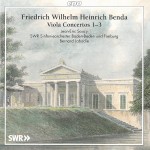 Three viola concertos usually attributed to the 18th-century German composer Georg Benda but now believed by the soloist here to be by Benda's nephew are presented on Friedrich Wilhelm Heinrich Benda Viola Concertos 1-3 (cpo 555 167-2 naxosdirect.com/items/benda-viola-concertos-nos.-1-3-455473). The Quebec-born violist Jean-Eric Soucy is the soloist with the SWR Sinfonieorchester Baden-Baden und Freiberg under Bernard Labadie, with whom Soucy was a co-founder of Les Violins du Roy.
Soucy's excellent notes trace the intricate but fascinating research journey that led to his opinion regarding the true source of these concertos. They're simply lovely works which Soucy rightly calls magnificent additions to the viola repertoire.
Concerto No.1 is in F Major; Concerto Nos. 2 and 3 are in E-flat Major. Soucy plays with a lovely warm tone, agility and clear articulation. Labadie creates a perfect setting for him, with the delicate harpsichord sound in particular adding to a transparent orchestral texture to create a perfect period feel.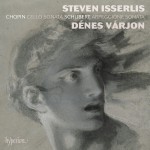 The always outstanding Steven Isserlis plays works by Chopin, Schubert and Franchomme on Chopin & Schubert Sonatas with pianist Dénes Várjon (Hyperion CDA68227 hyperion-records.co.uk). Isserlis is one of the most insightful and intelligent cellists around, and his warm, expansive playing is evident from the opening work, Chopin's Introduction and Polonaise brillante in C Major Op.3.
Chopin met the French cellist Auguste Franchomme in Paris and the two became close associates, the latter joining Chopin in the premiere performance of the Cello Sonata in G Minor Op.65, the last work published in Chopin's lifetime. Isserlis, in his customary insightful booklet notes, describes Franchomme's Nocturne in C Minor Op.15 No.1 as a nice bridge from the youthful Chopin to the inward-looking composer of the late, dark sonata. There's impassioned playing by Isserlis and Várjon in the Chopin Cello Sonata, especially in the lengthy opening movement.
The Schubert work is the Arpeggione Sonata in A Minor D821. The arpeggione, sometimes called the cello-guitar, was a fretted instrument held between the knees and played with a bow. It was an awkward invention that would probably be forgotten by now were it not for this sonata; certainly its awkwardness isn't reflected in Schubert's music.
Two songs in transcriptions by Isserlis complete the CD: Chopin's Nie ma czego trzeba Op.74 No.13; and Schubert's Nacht und Träume D827.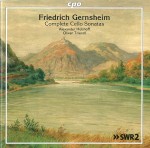 I don't recall ever hearing any music by the German late-Romantic composer Friedrich Gernsheim (1839-1916), so the new CD of his Complete Cello Sonatas with cellist Alexander Hülshoff and pianist Oliver Triendl came as a welcome – and pleasant – surprise (cpo 555 054-2 naxosdirect.com/items/gernsheim-complete-cello-sonatas-455471).
This is the first recording of all three of Gernsheim's cello sonatas, presented here along with two short pieces for cello and piano. The Sonata No.3 in E Minor Op.87 was a direct result of Gernsheim's dissatisfaction with the Sonata No.2 in E Minor Op.79 from 1906, the composer reworking the finale in 1914 and replacing the original first two movements with completely new ones. The Sonata No.1 in D Minor Op.12 is an early work from 1868 that still inhabits the world of Mendelssohn.
That Gernsheim could clearly write beautiful slow movements is amply illustrated by the two short works here. The Andante in D Major Op.64bis from 1898 is a transcription of the Brahmsian slow movement from the Violin Sonata Op.64, and Elohenu – Hebraic biblical song from1881 was inspired by Max Bruch's Kol Nidrei for cello from the previous year.
Hülshoff is noted for his "great expressive force and a powerful, warm and nuanced tone," says the booklet bio, and these works certainly afford him every opportunity to display those qualities. For his part, Triendl handles the ferociously difficult piano writing with a commanding assurance.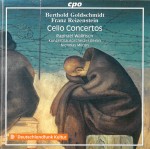 Voices in the Wilderness – Cello Concertos by Exiled Jewish Composers is the subtitle of another cpo cello CD, Reizenstein & Goldschmidt Cello Concertos, with Rafael Wallfisch and the Konzerthausorchester Berlin led by Nicholas Milton (cpo 555 109-2 naxosdirect.com/items/goldschmidt-reizenstein-cello-concertos-455472). The same performers were featured on an earlier release of cello concertos by Hans Gál and Mario Castelnuovo-Tedesco.
Both Franz Reizenstein and Berthold Goldschmidt fled Berlin for England in the mid-1930s, but while the 32-year-old Goldschmidt arrived as a mature composer the 23-year-old Reizenstein was still keen to continue studying, which allowed him to find a place in British musical development that eluded Goldschmidt.
Reizenstein's concerto was written in 1936, two years after his arrival, but not heard until its premiere in 1951 with cellist William Pleeth. In almost all respects – thematic material, harmony, orchestration – it absolutely screams Hindemith, with whom Reizenstein studied in Berlin, but there are also touches of Vaughan Williams, Reizenstein's teacher in England.
Goldschmidt's concerto was written for William Pleeth in 1953, using material from a lost pre-war cello sonata he had written for Emanuel Feuermann. Goldschmidt conducted the 1954 premiere with Pleeth as soloist.
Wallfisch has a strong personal connection to these works: his German musician parents also settled in England and knew both composers as well as Hans Gál. His performances of these two fascinating but rarely-heard works are quite outstanding.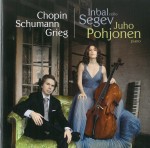 The Chopin Cello Sonata comes paired with works by Robert Schumann and Edvard Grieg on a new Avie Records CD with Israeli-American cellist Inbal Segev and Finnish pianist Juho Pohjonen (AV2389 avie-records.com).
While all three works are by Romantic-era composers whose musical thinking was shaped instinctively by the piano, Segev notes that they "focus on the cello's lyrical properties and I feel that here a beautiful tone is of paramount importance." That's certainly what we get from her 1673 Francesco Ruggieri instrument in a rich and passionate performance.
The Schumann 3 Fantasiestücke Op.73 were originally written for clarinet and piano and were transcribed for cello by the composer.
Grieg's Cello Sonata in A Minor Op.36 is full of the folk-inspired melodies so typical of the composer. The cello writing is comparatively straightforward, but the sonata has a simply huge and challenging piano part that at times sounds like Grieg's Piano Concerto. The Scandinavian Pohjonen is in his element here, and quite superb. Segev's playing in the really beautiful slow movement is absolutely gorgeous.
A really nice ambience and instrumental balance complement an excellent CD.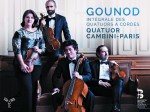 String quartets may not be what immediately spring to mind when you hear the name Charles Gounod, but he wrote five, two of which remained unpublished. All five are recorded together for the first time on the 2CD set Gounod: Complete String Quartets (Aparté AP177 apartemusic.com). The Quatuor Cambini-Paris performs on period instruments.
The quartets are: No.1 in C Major CG561, No.2 in A Major CG562, No.3 in F Major CG563, No.4 in A Minor CG564, and No.5 in G Minor CG565. They are very much in the Viennese tradition, and while perhaps not sounding particularly French, are clearly well-crafted and highly entertaining. Performances are top-notch, with a resonant recorded ambience.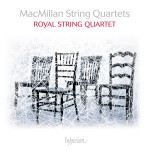 The Polish ensemble the Royal String Quartet plays String Quartets Nos.1-3 by the 59-year-old Sir James MacMillan on a new Hyperion CD (CDA68196 hyperion-records.co.uk).
String Quartet No.1 Visions of a November Spring, written in 1988 and revised in 1991, is described as displaying a sense of lyricism in the face of aggressive turbulence; MacMillan calls it "sheer frenzy, craziness."
String Quartet No.2 Why is this night different? from 1998 takes its inspiration from the question Jewish children ask on Seder Night. Running a fine line between elation and anguish, it creates a feeling of celebration against a perilous backdrop.
String Quartet No.3 from 2007 marked a return to absolute music – "Just the notes and nothing but the notes," said the composer – but if anything is more approachable and effective than the previous two. The quite beautiful final movement marked Patiently and painfully slow ends with a high, quiet, ethereal and striking soundscape.
Performances and recording quality are all first class.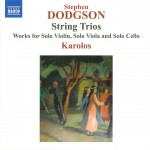 Stephen Dodgson String Trios, which includes Works for Solo Violin, Solo Viola and Solo Cello, features music by the English composer, who died in 2013 at the age of 89 (Naxos 8.573856 naxos.com). Three members of the UK chamber ensemble Karolos – violinist Harriet Mackenzie, violist Sarah-Jane Bradley and cellist Graham Walker – are the excellent performers.
The two string trios, from 1951 and 1964 respectively, act as bookends on the CD around the brief Sonatina in B Minor for Solo Violin from 1963, the 1978 solo viola set of variations Caprice after Puck and the lengthy Partita for Solo Cello from 1985. These are all predominantly tonal works with fine writing, the slow movements of the two trios being particularly attractive.
All but the String Trio No.2 are world premiere recordings.