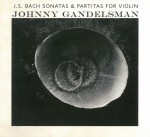 There's another outstanding set of the J.S. Bach Sonatas & Partitas for Violin, this time by the New York violinist Johnny Gandelsman, a member of Yo-Yo Ma's Silk Road Ensemble, on his own In a Circle Records label (ICR010 johnnygandelsman.com). No stranger to crossover styles, Gandelsman cites Irish fiddle bowing and Béla Fleck banjo left-hand chord shapes as influences on his approach to the problems posed by these astonishing works, and there's certainly a freedom, vitality and a strong sense of character that makes the performances immensely satisfying.
Gandelsman uses gut strings on a modern violin and a transitional bow – YouTube footage of his concert performances shows him holding it a few inches above the frog – and his bowing is effortlessly smooth and controlled, dancing through the faster movements and surmounting the multiple-stop issues with clarity and ease. He's never afraid to take the time to let phrases breathe, but never loses a fine sense of melodic line or rhythmic pulse. Nothing ever sounds heavy or forced.
It's simply brilliant playing, on a par with the very best in an intensely competitive field.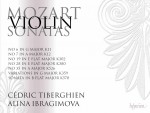 The 2-CD set Mozart: Violin Sonatas Vol.5 is the final issue in the complete series of Mozart's sonatas for keyboard and violin – including the 16 juvenile sonatas – by the outstanding duo of violinist Alina Ibragimova and pianist Cédric Tiberghien (Hyperion CDA68175 hyperion-records.co.uk). This disc has the Sonatas in G major K11 and A Major K12, the two Sonatas in E-flat Major K302 and K380, the Sonata in A Major K526 and the Variations in G Major K359. An interesting addition is the Sonata in B-flat Major K570, Mozart's penultimate piano sonata that appeared in print some five months after Mozart's death with an added anonymous violin accompaniment.
This is the first volume from this set that I've heard, and the previous volumes garnered rave reviews. It's easy to hear why: this duo always works so well together, and can find depth and expression in even the simplest movements. Judging by this beautifully recorded final issue it's a set that will bear comparison to any.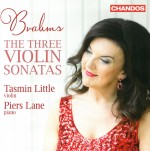 There's another truly lovely set of the Brahms Three Violin Sonatas, this time with the outstanding English violinist Tasmin Little and her regular partner Piers Lane (Chandos CHAN 10977 chandos.net). There's a beautifully measured opening to the Sonata in G Major Op.78 – always a good indicator of what's to come – with full, warm playing and a finely judged pulse and tempo. There's lyricism, expression and passion when called for in all three sonatas.
The rich tone of Little's 1757 Guadagnini violin is matched by Lane's Steinway Model D concert grand in as satisfying a set of these works as you could wish to hear.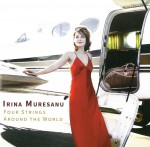 Four Strings Around the World is a quite stunning solo CD from the Romanian-born violinist Irina Muresanu that features diverse musical styles from across Europe, the Middle East, Asia and both North and South America (Sono Luminus DSL-92221 sonoluminus.com). Muresanu introduced her Four Strings Around the World project in 2013 after her difficulty in learning Mark O'Connor's Cricket Dance led her to explore worldwide non-traditional violin styles.
Enescu's Airs in Romanian Folk Style opens the disc, with works by Ireland's Dave Flynn, Iran's Reza Vali, India's Shirish Korde and China's Bright Sheng surrounding Paganini's 24th Caprice, Kreisler's Recitativo and Scherzo Op.6 and a strongly melodic reading of the Bach D Minor Chaconne. Then it's Piazzolla's Tango Étude No.3 and a work by Chickasaw Nation composer Jerod Impichchaachaaha' Tate before the short Cricket Dance that apparently gave Muresanu so much trouble.
Not that you would know it – complete with foot stomps, it's a simply dazzling end to one of the best solo CDs I've heard.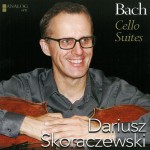 There are another two sets of the unaccompanied Bach cello works: Bach Cello Suites with Dariusz Skoraczewski, the principal cellist of the Baltimore Symphony Orchestra (Analog Arts dskora.com); and Johann Sebastian Bach The Six Cello Suites Revisited with the Danish cellist Toke Møldrup (Bridge 9503A/B bridgerecords.com).
Møldrup plays a David Tecchler cello (Rome 1697) and, for Suite VI and the Suite I Revisited a mid-18th-century cello rebuilt as a five-string by Birger Kulmbach in 2016. Skoraczewski's gorgeous tone is from a 1702 Carlo Giuseppe Testore cello on loan from Marin Alsop.
Recording ambience is fine for both, with a touch more resonance in the Skoraczewski. Individual movement and suite timings vary – the bigger differences probably due to the handling of repeats – but despite Møldrup being faster in 23 of the 36 tracks it's Skoraczewski who has the smoothest line and who really dances through the suites. Møldrup, incidentally, produces a continuous percussive sound from his left-hand fingers hitting the fingerboard.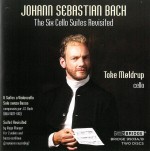 The Møldrup comes with copious booklet notes on the approach to the interpretation (turning the score "into three separate layers – melody, chordal structure and bass line") and an additional track in Viggo Mangor's Suite I Revisited, a reworking of the G-major suite transposed to D major for two violins, cello and chamber organ "to give an insight into our working method."
The Skoraczewski comes with virtually no notes at all, with all aspects of the CD production – recording, engineering, editing, graphics, photography – credited to him. In this particular case, less is definitely more.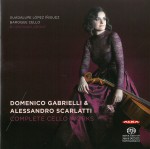 The Spanish academic-musician Guadalupe López Íñiguez is the Baroque cello soloist in Domenico Gabrielli & Alessandro Scarlatti Complete Cello Works on an excellent Alba Super Audio CD (ABCD 412 alba.fi). Baroque cellist Markku Luolajan-Mikkola, Baroque guitarist and archlutenist Olli Hyyrynen and harpsichordist Lauri Honkavirta provide varied continuo support where appropriate.
The Gabrielli works are the Sonatas for cello and basso continuo in G major (two versions) and A major, the seven Ricercari for solo cello and the Canon for two cellos. Scarlatti is represented by his three Sonatas for cello and basso continuo in D minor, C minor and C major respectively.
In her excellent booklet notes Iñiquez discusses her approach to the early music genre as well as the issues of sources, pitch, temperament, articulation, vibrato and scordatura, the latter employed in the Gabrielli-major sonata (first version) and the Ricercari numbers 4, 6 and 7.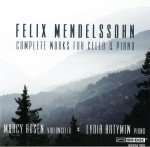 The American duo of cellist Marcy Rosen and pianist Lydia Artymiw is featured on Felix Mendelssohn Complete Works for Cello & Piano (Bridge 9501 bridgerecords.com). Rosen plays with a smooth singing tone and a fine sense of line in the Variations concertantes Op.17, the two Sonatas – No.1 in B-flat Major Op.45 and No.2 in D Major Op.58 – the Lied ohne Worte Op.109 and the brief musical fragment Assai tranquillo. Artymiw's contribution is outstanding, full of nuance and sensitivity and with a fine dynamic range. The Molto allegro e vivace finale of Sonata No.2 is a standout on an excellent CD.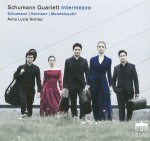 Germany's Schumann Quartett – the three Schumann brothers Erik, Ken and Mark along with violist Liisa Randalu – presents works by Robert Schumann, Felix Mendelssohn and the German composer Aribert Reimann on Intermezzo (Berlin Classics 0301058BC berlin-classics-music.com).
Schumann's String Quartet No.1 in A Minor Op.41/1 has long been a part of their repertoire, and their deep understanding of the work is evident in a striking performance.
Aribert Reimann is a direct descendant of Franz Richarz, the doctor who treated Robert Schumann in the asylum near the end of his life. His Adagio in Memory of Robert Schumann from 2006 is based on two wordless chorales that Schumann left unfinished. The soprano Anna Lucia Richter is the excellent soloist in Reimann's effective setting of Schumann's Six Songs Op.107, written during the first severe onset of his mental illness.
Schumann dedicated his three Op.41 quartets to Mendelssohn, and the latter's String Quartet in E-flat Major Op.12 completes a thoughtful and intelligent recital. Again, there's an excellent feel for the music, with lightness, agility, clarity and – especially in the Molto allegro e vivace final movement – what Randalu describes as the opportunity for "wild joy in playing."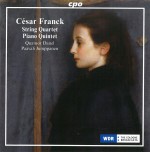 Two of the three late chamber masterpieces by a French composer who received virtually no public acclaim during his lifetime are presented on César Franck String Quartet and Piano Quintet by the Quatuor Danel and pianist Paavali Jumppanen (CPO 555 088-2 naxosdirect.com/labels/cpo).
The String Quartet in D Minor, premiered in 1890 just months before Franck's death, was the first work of his to win unbridled public acclaim. It's a huge and difficult work, which may account for its not being heard more often; this impassioned performance, though, makes you wish it were.
The Piano Quintet in F Minor made little impact at its 1879 premiere but quickly won over Franck's colleagues, inspiring similar works by an array of French composers. Again, it's a passionate and sensuous piece that elicits exemplary playing from Jumppanen and the ensemble.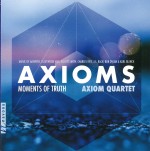 Axioms – Moments of Truth is the new CD from the Houston-based Axiom Quartet (Navona Records NV6151 navonarecords.com). Although there are short works ranging from Monteverdi through Bach, Ives, Billie Holiday and Fleetwood Mac to Bob Dylan, the driving creative force here is the composer Karl Blench, who not only made all the arrangements but also provided the short pieces that act as transitions between the named works; he also wrote the final title track.
Played without a break, it's a fascinating program from an ensemble known for its mixing of traditional repertoire with transcriptions of music from a wide variety of popular genres. They're clearly in their element here.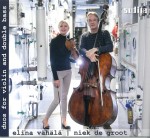 Duos for violin and double bass features violinist Elina Vähälä and bassist Niek de Groot in a diverse and fascinating selection of contemporary works by Krzysztof Penderecki, the late Isang Yun, Jaakko Kuusisto, Erkki-Sven Tüür, Alfred Huber, György Kurtág and Wolfgang Rihm (audite 97.732 audite.de).
Composition dates range from 1989 to 2012, with the differing approaches to the possibilities presented by these two apparently incompatible instruments creating a remarkable program that Vähälä and de Groot handle with complete technical and musical assurance.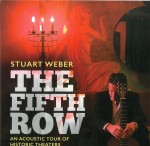 The Fifth Row – An Acoustic Tour of Historic Theaters (Ravello Records RR7988 ravellorecords.com) is a highly original concept album from the American classical guitarist Stuart Weber that acknowledges that a player's awareness of their physical surroundings is crucially important. "Our ears," says Weber, "have to be in the house. The Fifth Row, to be precise."
Weber decided to indulge his fascination with old theatres and their unique acoustic qualities by recording the 11 tracks in 11 historic theatres in Montana, Utah, Wyoming, Colorado and Idaho. It's difficult to discern any real acoustic differences between the tracks, but no matter – it's a highly entertaining, if brief (35 minutes) program of arrangements of short pieces by Dvořák, Bartók, Weiss, Telemann and others interspersed with five of Weber's own excellent compositions.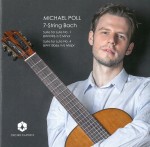 Another relatively brief but high quality guitar CD features Michael Poll playing the Lute Suites Nos.1 and 4 on 7-string Bach (Orchid Classics ORC100082 orchidclassics.com). Recorded in the legendary Studio 3 at London's Abbey Road Studios, Poll plays with a warm, rich and full tone in his own arrangements of the Lute Suite No.1 in E Minor BWV996 and the Lute Suite No.4 in E Major BWV1006a, the latter Bach's own adaptation of the musical material in his Partita III for solo violin.
Poll plays a seven-string guitar, the additional string making it possible to play these works in their original register.