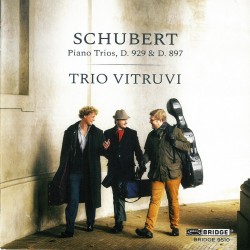 Schubert – Piano Trios
Trio Vitruvi
Bridge Records 9510 (bridgerecords.com)
Hailing from Denmark, Trio Vitruvi had both their Carnegie Hall debut performance and the official release of their debut album with Bridge Records in April this year. After winning two chamber music competitions and several awards in 2014, the ensemble began touring and found its unique voice in the process – their playing is polished and noble, sophisticated, astute and spirited, open to improvising in the moment yet respectful of musical traditions. The trio's name comes from Roman architect and philosopher Vitruvius, whose concepts regarding beauty, structure and proportions the trio adopted and applied to their understanding of music and interpretations. Niklas Walentin (violin), Jacob la Cour (cello) and Alexander McKenzie (piano) are not only talented but also highly attuned to Schubert's music.
Schubert's final piano trio (D.929) is rich, monumental, ingenious, surprisingly intimate at times, a masterpiece of structural and harmonic genius, and one of my favourite pieces of music. I cannot help but note the parallel between the Vitruvian Triad (as written in De Architectura) and the trio's interpretation of Schubert's music: it seems that both Vitruvius and Vitruvi aspired to make their creations solid, useful and beautiful. Vitruvi takes it one step further – they infuse Schubert's music with a sense of adventure and limitless colours. Here we are treated to the original, longer version of the fourth movement, which makes this recording even more precious. Notturno, written in the same year, makes for the lush, lyrical conclusion of this album.