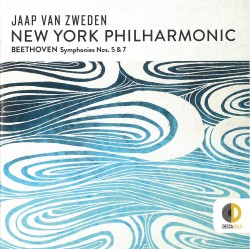 Beethoven – Symphonies 5 & 7
New York Philharmonic; Jaap van Zweden
Decca Gold B0027956-02 (deccagold.com)
What better way of celebrating a new partnership between a record label and a renowned American orchestra than music by Beethoven? The label in question – Decca Gold, Universal's new classical music label – recently joined forces with the esteemed New York Philharmonic to present a series of live recordings under the direction of Jaap van Zweden, who assumes the official role of music director in September 2018. This recording is the first in the projected series and features Beethoven's Symphonies Five and Seven, recorded in 2014 and 2015.
The two symphonies were indeed excellent choices for this premiere recording. As clichéd as the opening measure of the Fifth Symphony has become ("fate knocking at the door"), the work's theme of tragedy to triumph still has the power to move the most impartial listener, and the NYP delivers a polished and compelling performance. Tempos – particularly in the first movement and the finale – are brisk (perhaps brisker than we're accustomed to), but the third movement is all lyricism before the exuberant finale.
Wagner once described the Symphony No.7 as "the apotheosis of the dance" and under van Zweden's baton, this performance is a joyful dance indeed. The warmth of the NYP strings is particularly evident in the second-movement Allegretto while the finale – a true tour de force – is treated with great bravado.
While both these symphonies have long been considered standard repertoire, van Zweden and the NYP breathe new life into them, approaching each with a particular freshness and vitality. These performances easily hold their place alongside more established recordings and if they are any indication, the soon-to-be pairing of van Zweden and the NYP will be a formidable one indeed. Highly recommended.