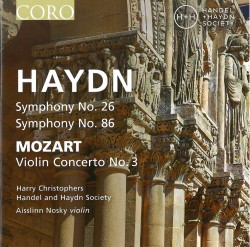 Haydn – Symphonies 26 & 86; Mozart – Violin Concerto No.3
Aisslinn Nosky; Handel and Haydn Society; Harry Christophers
Coro COR16158 (naxos.com)
The Handel and Haydn Society, the Boston-based chorus and period orchestra and one of the oldest art organizations in North America, continues to unravel new complexions and nuances of well-loved and well-known works with gusto. This new live recording, under the artistic leadership of Harry Christophers, presents Haydn and Mozart's works with candour and exuberance.
Pairing the early "Lamentatione" Symphony with a more extensive one from Haydn's later period works quite well. The juxtaposition of Sturm und Drang style with plainsong chant in Symphony No.26 reveals Haydn's creative spirit, but it is the more mature No.86 (arguably the best of the six "Paris" symphonies) that shows what an original thinker he was. The orchestra's playing is dynamic and uniform, underlying every single nuance, blending ardour with measured restraint.
Canadian violinist Aisslinn Nosky, the orchestra's concertmaster and soloist in Mozart's Violin Concerto No.3, is a marvel. The chemistry between her and the orchestra is obvious. If you are not already enthralled by Nosky's spiritedness and playful abandon in the first movement, then she will have you in the palm of her musical hand (so to speak) with the otherworldly opening phrase of the second. Her cadenzas are a bravura of virtuosity and humour and at one point on the recording we can even hear the audience chuckling with delight.
Very enjoyable, suitable for any season or time of the day.