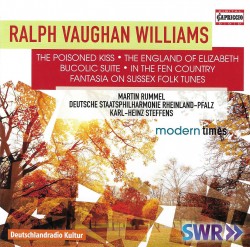 Vaughan Williams – Fantasia on Sussex Folk Tunes and other works
Martin Rummel; Deutsche Staatsphilharmonie Rheinland-Pfalz; Karl-Heinz Steffens
Capriccio CD C5314
This collection of shorter delights, lollipops so to say, opens with the jaunty overture to the comic opera, The Poisoned Kiss, a "romantic extravaganza." The most interesting work is the Fantasia on Sussex Folk Tunes for cello and orchestra. Vaughan Williams was a collector of folk music and as Bartók did with Hungarian tunes, he incorporated them into his compositions. Vaughan Williams was quite familiar with Sussex County and had been collecting material there since his school days in the village of Rottingdean in East Sussex. His Fantasia, a work new to me, was premiered in 1930 with Pablo Casals as soloist. Instantly recognizable as Vaughan Williams, there are five folk tunes incorporated in a conversation between soloist and orchestra, making this a compelling and interesting workout for cellist and orchestra. It deserves to be popular.
The earliest work, the Bucolic Suite of 1900, also known as the Pastoral Suite, is just that, euphoric thoughts of countryside life. In the Fen Country is no stranger to the catalogues and paints a picture of the lonely and desolate Fen country in the east of England. There are three movements – Explorer, Poet and Queen – arranged from the 1957 inspiring film, The England of Elizabeth. The five works add up to a novel and interesting collection, brilliantly played and recorded. The Elizabeth of Three Portraits from "The England of Elizabeth" refers to the Elizabeth of the 16th century. The Armada and all that.