Programs 13 & 14; Programs 15 & 16
All-Star Orchestra; Gerard Schwarz
Naxos 2.110561 and 2.110562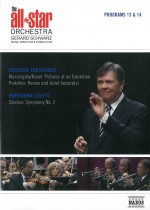 It's been three years now since the American conductor Gerard Schwarz embarked on an ambitious project: assemble 95 leading musicians from top orchestras across 22 states and record an annual series of concerts without an audience over a brief four-day period using high-definition video cameras. The undertaking has garnered considerable critical acclaim, and since 2014, the All-Star Orchestra has made a significant name for itself both through television performances on PBS and WNET and by means of a series of DVDs on the Naxos label. The recording sessions made during the third season have been captured on two DVDs – programs 13/14 and 15/16 respectively – and together they present eclectic programs of music from the late Romantic period to the 20th century.
The first of these, subtitled "Russian Treasures" and "Northern Lights," features Mussorgsky's Pictures at an Exhibition, excerpts from Prokofiev's ballet Romeo and Juliet and the Symphony No.2 by Jean Sibelius. Prior to each performance, Schwarz provides an informal commentary, while various members of the orchestra offer their thoughts on the music as well, all of which makes for an engaging personal touch – and the myriad of effective camera angles throughout gives the ensemble a strong sense of presence. The performances of all three works are uniformly excellent. The individual movements from Pictures are finely crafted, while the familiar segments from the ballet – Capulets and Montagues, Portrait of the Young Juliet, Minuet and Death of Tybalt, are in no small way aided by the warm strings, a full and well-rounded brass section and woodwinds with impeccable clarity. Sibelius' grand and expansive symphony from 1902 is treated with much aplomb, from the gentle opening movement to the jubilant finale.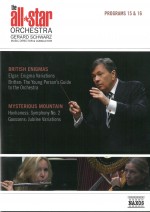 Programs 15 and 16 take the viewer from Northern Europe to England and America of the 19th and 20th centuries. "British Enigmas" presents Elgar's noble and dignified Enigma Variations and Britten's Young Person's Guide to the Orchestra. Less well known are the ethereal Symphony No.2 "Mysterious Mountain" by American composer Alan Hovhaness and the Jubilee Variations, a collaborative work by English composer Eugene Goossens and ten American composer friends. The final movement of the variations, written by Goossens himself, is a true tour de force requiring the ensemble to pull out all the stops, thus bringing the work – and the DVD – to a fitting conclusion. The viewer is left almost wishing there was a live audience present to offer a round of well-deserved applause!
So to Gerard Schwarz and the ASO, a big bravo – here's hoping this ambitious undertaking will be around for many years to come, bringing fine music-making to home audiences around the world.