Beethoven
Anton Kuerti
Concertmasters AKR2017CD-1

Beethoven – Profound Passion: Diabelli Variations
Anton Kuerti
Concertmasters AKR2017DVD-1 (antonkuerti.com)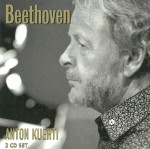 An icon in the world of Canadian classical music, Anton Kuerti has enjoyed a long and distinguished career, not only as a performer and pedagogue, but also as a concert organizer, artistic director and social activist – a true Renaissance man! Among his extensive recordings, the music of Beethoven has always been a focus (he won a JUNO for three recordings of Beethoven sonatas in 1977), so perhaps it isn't surprising that he'd return to music by "the great mogul" in this two-disc set featuring Piano Sonatas 21, 23 and 26 in addition to the famous Diabelli Variations.
Sonata No.21, the Waldstein, from 1804, is surely one of Beethoven's most formidable, both in terms of technique and nuance. Not only is Kuerti's impressive technique clearly evident from the outset, but the sound he creates is warm and lyrical. The tranquil, gentle second movement gracefully merges into the expansive third movement Rondo, where Kuerti gives full weight to the piano, clearly allowing the music to speak for itself.
The tempestuous mood of the Appassionata is artfully conveyed, but done so with dignity and never to excess. Phrases are well articulated and while the tempos are perhaps more leisurely than the listener might be accustomed to – particularly in the third movement – they never lag. The programmatic Sonata No.26 "Les Adieux" from 1810 is one of Beethoven's most challenging through the contrasts of emotions, but again, Kuerti easily meets the demands, delivering a polished and elegant performance.
The second disc is devoted entirely to the Diabelli Variations, a simple tune that Beethoven fashioned into one of his most famous compositions. Kuerti brings a special sensitivity to this performance, crafting each one with particular care – a true study in contrasts.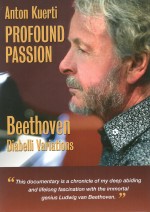 The variations appear again as the sole work on a worthy companion to this set, a DVD titled Profound Passion. The introduction states that while this monumental piece has long held a particular fascination for Kuerti, its length may prove too daunting for the average listener and, without a proper explanation, it may not receive the appreciation it deserves. Hence, Kuerti provides an informal but lucid program guide prior to the performance, using various musical examples. Once again, the final performance is stellar – and for those who enjoy watching a pianist's hands, this DVD is a treat.
Either singularly or together, these recordings are a fine tribute, both to an outstanding Canadian artist and to music written by a composer at the height of his musical creativity. Highly recommended.