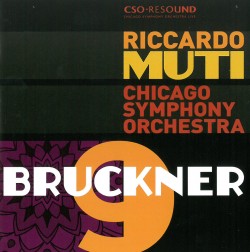 Bruckner 9
Chicago Symphony Orchestra; Riccardo Muti
CSO-Resound CSOR 901 1701 (cso.org)
There is no lack of fine recordings of Bruckner's Symphony No.9, a work left incomplete at the time of his death in 1896. Among American orchestras, the Chicago Symphony has long been renowned for its performances of Bruckner's music, and it was the CSO who actually gave the North American premiere in 1904. So this latest recording featuring the CSO conducted by Riccardo Muti seems particularly fitting.
This is not Muti's first foray into Bruckner – he has also recorded Symphonies Four and Seven – but from the forbidding opening measures of Symphony No.9, the orchestra displays a deep engagement with this monumental score. The first movement – 26 minutes in length – is majestic and dignified, with CSO's outstanding sound displaying rich tonal colours and a full dynamic range. We could only have hoped for a little more prominence of the renowned CSO brass section, which at times seems too muted.
The strident Scherzo has a rightful mood of defiance, Muti approaching it with a suitable amount of intensity.
The third and final Adagio is all serenity, with Muti and the CSO invoking a true sense of nobility. Even without the final movement, Muti instills a satisfying sense of conclusion that doesn't leave the listener wanting for more.
This is an exemplary recording, one that can rightfully take its place alongside more established performances. An Italian-born conductor leading an American orchestra in music from the late Romantic period – proof indeed that fine music-making does indeed transcend international boundaries – highly recommended.