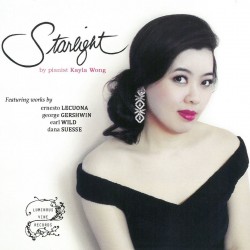 Starlight
Kayla Wong
Luminous Vine Records (kaylawong.net)
Music from the golden age of Hollywood is the premise behind Kayla Wong's suitably named second disc Starlight. Was it really more than two years ago that she released her exemplary debut recording Allure? Since completing her studies at UCLA, this Saskatchewan-born artist continues to enjoy a notable career as a soloist and chamber musician, including recitals at Carnegie Hall and Hong Kong's Cultural Centre.
The disc opens with a set of six pieces by Ernesto Lecuona. Clearly, Wong has an unmistakable affinity for Spanish-inspired repertoire, in this case, by the "Cuban Gershwin." Her performance of these contrasting musical miniatures is polished and elegant – from the rhythmic Cordoba to the sensuous and lyrical Preludio en la Noche. While these pieces may have been recorded not far from the rumbling of TTC streetcars, they are firmly stamped "España."
Earl Wild's three Virtuoso Études (from a set of seven) based on popular songs by George Gershwin are virtuosic show-stoppers. The lyricism and charm of the originals are ever present, yet these pieces also require a formidable technique and Wong approaches the challenges with great panache.
In keeping with the Hollywood theme are six pieces by the New York songwriter Dana Suesse. With their syncopated rhythms, and bluesy harmonies, tracks such as Jazz Nocturne and Serenade to a Skyscraper are indeed worthy tributes to Hollywood's golden age.
Starlight is a delightful respite from our less-than-perfect world of 2017 – highly recommended.