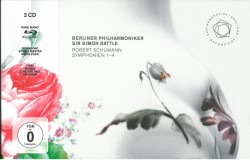 Schumann – Symphonies 1-4
Berliner Philharmoniker; Sir Simon Rattle
Berliner Philharmoniker Recordings 140011 (2 CDs + Blu-ray)
Schumann was the consummate Romantic composer, whose compositions from consequential piano works, chamber music, song cycles, concertos, staged works and symphonies, etc. remain in the active repertoire. Except for the staged works that enjoy rare outings. Schumann was also a busy author, publisher and critic.
I have attended many performances of one or another of the four Schumann symphonies and acquired or listened to recordings by the great and not so great conductors and orchestras. Many have been mighty achievements but very few found the composer behind the printed notes. The most popular misreadings are those that emulate Brahms.
Over the years conductors had almost universally decided that Schumann lacked the skills to orchestrate and so many dutiful performances perpetuated just this. Mahler re-orchestrated all four symphonies which were recorded by Riccardo Chailly and the Gewandhaus Orchestra for Decca. In the early 1990s, conductor Florian Merz and the Klassische Philharmonie Düsseldorf recorded the four symphonies and other orchestral works for ebs. Employed were the critical editions of the scores commissioned by the Robert Schumann-Gesellschaft in Düsseldorf, which chose Schumann's own 1851 re-orchestration of the 1841 Fourth (ebs 6088, 3CDs).The visceral Düsseldorf performances, while enthusiastic, are entirely objective. However, a genuine curiosity on a separate disc (ebs 6091) is a bold re-orchestration of the Fourth Symphony based on the original version of 1841 revised in 1891, 35 years after Schumann's death, by Brahms and Franz Wullner.
Just as orchestras and other ensembles have learned to play Mozart with reduced forces and appropriate instruments, in order to produce the overall soundscape that Schumann envisioned it is essential to know and understand what the composer had in mind. Schumann should not be performed with the entire body of the modern symphony orchestra. Mendelssohn was Schumann's teacher and both scored their works for the classical-size orchestra of, say, 50 players tops, to achieve the transparency and voicing intended. Rattle explains so much on this subject, making the enclosed Blu-ray disc so valuable in the understanding and background of so many facets of these works. Also by believing Schumann's marked tempos and natural orchestral balances, the music can be incredibly profound without being heavy or slow. A fascinating and most informative part of Rattle talking about Schumann is the story of the Fourth Symphony and the reason for his decision to use Schumann's original 1841 version…the one considered unplayable by many orchestras.
No doubt about it, this is an absolutely essential package for all Schumann appreciators and others. The set contains CDs but the exemplary sight and sound of the live performances on the Blu-ray disc moves the viewer right into the Philharmonie.