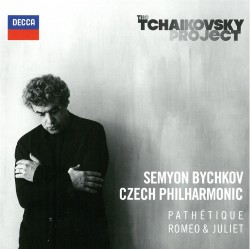 The Tchaikovsky Project – Pathétique; Romeo & Juliet
Czech Philharmonic; Semyon Bychkov
Decca 483 0656
A formidable pairing of the great Symphony No.6 with the Romeo & Juliet Fantasy Overture featuring Russian conductor Semyon Bychkov and the Czech Philharmonic launches The Tchaikovsky Project on the Decca label, a multi-year endeavour devoted to re-examining the composer's greatest orchestral works. Was it really 26 years ago that Bychkov recorded the Pathétique with the Concertgebouw? How appropriate that the major work on the initial disc in this new series should contain an underlying theme of mortality!
Completed in 1893, Tchaikovsky's Symphony No.6 takes the listener on a highly personal journey, and the Czech Philharmonic under Bychkov's competent direction has no difficulty conveying the sense of tragic resignation. Well-articulated phrasing highlighted by the luxuriant strings and brilliant brass makes this performance a true odyssey. The four contrasting movements are all marked by a technical precision and warmly romantic sound that particularly befits one of the composer's final works.
The Romeo & Juliet Fantasy Overture from 1869 has long been a favourite with audiences for its interpretation of the familiar story of ill-fated love. Without overly sentimentalizing the score, Bychkov draws the full range of tonal colours from the orchestra – from the prophetic opening of the fight scenes, to the lyrical love theme and on to the cataclysmic finale.
This is a fine beginning to a promising series. Bychkov wrote: "I've loved Tchaikovsky's music ever since I can remember – and like all first loves, this one never died."