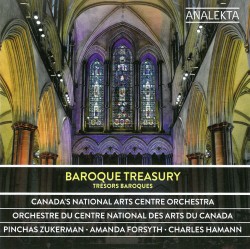 Baroque Treasury
Pinchas Zukerman; Charles Hamann; Amanda Forsyth; National Arts Centre Orchestra
Analekta AN 2 8783
Review
Was it really 17 years ago that Pinchas Zukerman became music director of Ottawa's National Arts Centre Orchestra? Although he stepped down in 2015, the renowned and affable conductor and violinist hardly seems ready to slip into retirement any time soon. He remains the orchestra's Conductor Emeritus and among numerous other endeavours also starts his eighth season as principal guest conductor of London's Royal Philharmonic and his second as artist-in-association with the Adelaide Symphony. We should all be so active at 68!
The NACO's most recent recording, Baroque Treasury, featuring oboist Charles Hamann, cellist Amanda Forsyth and Zukerman as both conductor and soloist, is a delight, and is proof indeed that Baroque repertoire need not always be performed on period instruments in order to sound convincing. The disc presents a number of compositions, opening with the rousing Arrival of the Queen of Sheba from Handel's Solomon. Bach's familiar Concerto for Oboe and Violin BWV 1060 is given a spirited and sensitive performance by Zukerman and Hamann while Zukerman returns for the less-familiar Pastorale for violin and string orchestra by Giuseppe Tartini as arranged by Ottorino Respighi. He and his wife (Forsyth) then join forces in Vivaldi's Double Concerto RV547, the pairing a rarity amongst Baroque concertos. Equally rare is Telemann's Concerto for Viola, one of few concertos for the instrument.
Throughout, the NACO' s solid performance demonstrates a particular affinity for the Baroque style. The final work is Bach's familiar Orchestral Suite No.3 and here the orchestra approaches the score with much aplomb. There is a clear sense of joy in this music making, from the grandeur of the Ouverture to the final rollicking Gigue which brings the suite and the disc to a most satisfying conclusion.
While our 21st-century ears may by now be more accustomed to hearing Baroque music performed with thinner, more transparent textures, Zukerman and the NACO demonstrate that a modern ensemble and gifted soloists can also do it full justice.