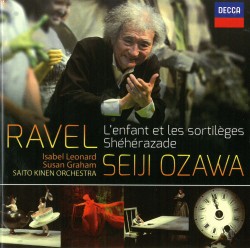 Ravel – L'enfant et les sortilèges; Shéhérazade
Isabel Leonard; Susan Graham; Saito Kinen Orchestra; Seiji Ozawa
Decca 478 6760
This new Decca release marks Seiji Ozawa's 80th birthday and gives a nod to the particularly fruitful career of a conductor with a lifelong rapport with Ravel's music. The pairing of a lyric fantasy, a triptych for mezzo-soprano and orchestra and an orchestrated movement from a solo piano suite creates an impressionistic jewel of tonal patterns and colours, oriental elements and imaginative stories.
Colette's libretto for L'enfant et les sortilèges is whimsically charming and particularly suited to Ravel's music. It tells the story of a young boy whose misbehaviour brings objects and talking animals to life. The opera is full of interesting characters – the armchair, the clock, the teapot, the Chinese cup and a whole array of animals (cats, frogs, squirrels and dragonflies). Ravel underscores the fantastic elements with indisputably beautiful orchestration. Mezzo-soprano Isabel Leonard's portrayal of the mischievous child is light and playful and, even more notably, the whole cast is outstanding.
Ravel's affinity for the oriental world is evident in Shéhérazade, a trio of vocal works set to expressively romantic poems by his friend and fellow member of the avant-garde artist group Les Apaches, Tristan Klingsor. The music is dreamy, sensuous, in full rapport with the text. Mezzo-soprano Susan Graham is powerful yet full of emotional nuances.
Alborada del gracioso, showcasing Saito Kinen Orchestra's engaging interpretation of Ravel's world, completes this highly recommended recording.