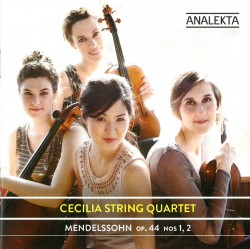 Mendelssohn – String Quartets Op.44 Nos.1&2
Cecilia String Quartet
Analekta AN 2 9844
Having played these two quartets many times over the years and listening to them, one way or another, countless more times, I am still amazed at the enchanting influence Mendelssohn's quartets hold over string players and their audiences. His penchant for combining beautiful melodies with the intricate underlying textures seems especially suited to the Cecilia Quartet, who bring out a weaving of the voices in the most enticing manner. Sonorous, youthfully energetic, refined and exuberant at the same time – all are characteristics of this recording, but what I was most impressed with was the element of subtle understatement that Cecilia Quartet mastered throughout. This ensemble did not put the emphasis on the most obvious elements of Mendelssohn's music (though they are, of course, undeniable) but, rather integrated it with the delicate texturing of phrasing and enunciation.
The three quartets opus 44 were written within a year (1837-1838), at the most prosperous time of Mendelssohn's life. The newly married composer began working on them on his honeymoon and the opening of the Quartet in D Major, Op.44 No.1 carries through the buoyancy and generosity of happiness discovered. Two middle movements are more classical in nature, while the finale brings out the spirited dance elements.
Mendelssohn was the master of combining a sense of urgency with melancholy and such is the opening of the Quartet in E Minor, Op.44 No.2 in contrast to the sentimentality of the third movement. Cecilia Quartet is particularly adept at highlighting the nimbleness of the Scherzo with their impressive bow technique but they certainly don't lack power in the final movement.
Recommended to all the admirers of notes ingenious and pleasing.