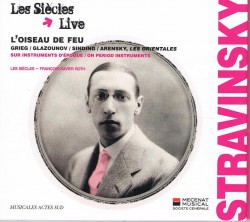 Stravinsky – Firebird
Various Composers – Les Orientales
Les Siècles; François-Xavier Roth
Actes sud ASM 06
Last month I enthused over this group playing the reconstructed score of Le Sacre du Printemps as heard at the riotous premiere in Paris on May 29, 1913 (Actes sud ASM 15). Les Siècles is an orchestra of young musicians culled from the finest French ensembles. They have access to and play instruments from all periods and so are perfectly able to replicate the palette of the Ballets Russes orchestra at that time. We listen with new ears.
To conductor Roth's credit, as one listens to these Stravinsky scores the rhythmic energy, regardless of the tempo, makes it very clear that these are ballet scores. In his later revisions and suites, Stravinsky had his eye on the concert hall. Here we hear exactly what the composer had in his mind over 100 years ago when he was in his late 20s and an enfant terrible in the making with Firebird, although by Le Sacre he was pretty well there. In these performances, we hear for the first time the interplay between instruments, particularly the winds, adding unsuspected nuances to the mix.
To open the program, Roth and Les Siècles are on their mettle with a reconstruction of another Michel Fokine ballet of the day, the exotic divertissement Les Orientales, including music by Glazunov, Sinding, Arensky and Grieg.
An inseparable aspect of these discs is the astonishingly detailed and translucent sound of these vital live performances, truly a "you are there" experience that will ignite the most jaded listeners. You will not hear performances to match these anywhere else. If you care to read the Le Sacre review it can be found at thewholenote.com.
These audiophile recordings belong in every audio dealer's demo room and of course, in your collection if you have any regard for Stravinsky.