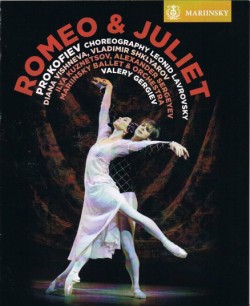 Prokofiev – Romeo & Juliet
Mariinsky Orchestra; Valery Gergiev
Mariinsky MAR 0552
This magnificent production, recorded live in March 2013 replicates the January 1940 Russian premiere of Romeo and Juliet choreographed by Leonid Lavrovsky. The mise-en-scène is delightfully dated but every aspect of this production is as virtually flawless as a live performance can be. Principal Dancer and soloist Diana Vishneva is Juliet with Principal Dancer Vladimir Shklyarov as Romeo. Ilya Kuznetsov is Tybalt and Alexander Sergeyev is Mercutio. The power and energy generated from the pit is astounding and the picture is breathtakingly opulent. Enthusiastically recommended!
The 1940 production had a twisted history. The often stormy encounters between composer and choreographer and others began in November 1934 when Prokofiev visited Leningrad to consider with dramatist Adrian Piotrovsky the subject for a new ballet. Shakespeare's Romeo and Juliet was selected. By January 1935 Prokofiev had drafted a scenario for a five-act production and proffered this to theatre director Sergey Radlov, who suggested some dramatic themes for the production. By May a four-act scenario was agreed upon … with a happy ending! In 1941 Prokofiev wrote that "There was quite a fuss at the time [1935-36] about our attempts to give Romeo and Juliet a happy ending; in the last act, Romeo arrives a minute earlier, finds Juliet alive and everything ends well. The reasons for this bit of barbarism were purely choreographic: living people can dance, the dying cannot."
From 1936 on, Romeo and Juliet became an artistic football as well as an incidental political one. Dismissals and some arrests, including Piotrovsky and Dimanov, who was the official from the Central Committee who had endorsed the happy ending, were not uncommon. Out with Dimanov and the happy ending! These vehement battles continued unabated right up to and beyond January 1940. In the meantime, in December 1938 the ballet with the tragic ending (as recorded here) had seven performances at the Regional Theatre in Brno, Czechoslovakia. All's well that ends well…