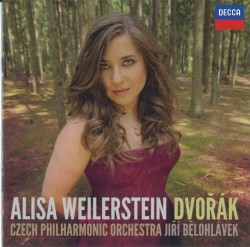 Dvořák – Cello Concerto in B Minor, Op.104
Alisa Weilerstein; Czech Philharmonic Orchestra; Jirí Bělohlávek
Decca B0019765-02
When we think of great cello concertos only a handful come readily to mind, namely those from the Romantic composers; Dvořák, Elgar, Schumann, Saint-Saëns, plus Prokofiev and the two from Shostakovich. Of course, there are also these popular named works: Tchaikovsky's Rococo Variations, Richard Strauss's Don Quixote, Bloch's magnificent Schelomo. For the average music lover, the Dvořák and the Elgar are most likely to come to mind.
Neither of the two wants for excellent recorded performances from past and present luminaries, but today's artist to listen for is Alisa Weilerstein and she has recorded both (her EuroArts DVD and Decca CD recordings of the Elgar were reviewed in these pages in October 2011 and December 2012 respectively). From the moment of her entry in the first movement of the Dvořák we are aware of her flawless and stimulating technique, producing thrilling sonorities with assurance and rhythmic precision.
Under Bělohlávek, the Czech Philharmonic has regained the sound and authority of the past, playing with palpable enthusiasm and partnering in a very exciting and satisfying performance, superbly recorded.
Just a thought: a photograph of the recording session shows Weilerstein facing into the orchestra which may account for the total involvement of everyone concerned.
Six shorter show pieces are included: Lasst mich allein, Op.82 No.1; Rondo in G Minor, Op.94; Goin' home; Songs my mother taught me, Op.55 No.4; Silent Woods, Op.68 No.5 and an exciting Slavonic Dance in G Minor, Op.46 No.8. Even though she does not yet have a recognizable, distinctive sound of her own, Weilerstein excels with an engaging rendering of each piece, closing out this most welcome disc.