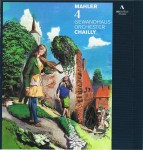 Mahler – Symphony No.4 in G Major
Christina Landshamer; Gewandhaus Orchestra; Riccardo Chailly
Accentus Music Blu-Ray disc, ACC10257
Mahler – Symphony No.6 in A Minor
Gewandhaus Orchestra; Riccardo Chailly
Accentus Music Blu-Ray disc, ACC10268
The new Mahler cycle by Riccardo Chailly and the Gewandhaus Orchestra continues. Chailly already has a complete cycle on CD (which includes Cooke's realization of the 10th with the Berlin RSO), with the Concertgebouw recorded between 1994 and 2003 when he was their music director, succeeding Bernard Haitink who also had set down a cycle. Both these Concertgebouw performances are cast in the traditional mould.
Most conductors and orchestras that include Mahler in their repertoire are on firm ground delivering performances that do not stray beyond the, by now, traditional way the scores unfold. Tradition, to paraphrase Toscanini, is what you heard in the last bad performance… and so on back down the line.
This new Fourth Symphony disc contains, in addition to the revelatory, searching performance, two bonus features. Mahler is heard playing from the fourth movement on the 1905 Welte-Mignon piano rolls, and Chailly expounds on his new interpretation of the symphony with illustrations from the rehearsals and performance. Chailly: "It is important to take the time to study music you've performed many times before. I hadn't conducted Mahler's Fourth for 11 years and it felt like unfinished business. I've tried to rethink my interpretation from start to finish and give this great symphony a far stronger sense of structure. I've started again from scratch. Mahler takes everything to extremes: he takes his climaxes to the limit, and the movement lengths, so you have to pay close attention to the enormous extremes in dynamics…"
The Sixth is immediately arresting. Chailly reverses the order of the middle movements, returning the "Andante" to second place followed by the "Scherzo," now an hysterical danse macabre, distanced from the Allegro energico of the first movement. The total performance is a new experience, to say the very least. On the 15-minute bonus track, Chailly and Reinhold Kubik of the International Gustav Mahler Society discuss many aspects of the symphony including, of course, how many hammer blows. Chailly talks about and illustrates, as before, his break away from destructive traditions.
As do the Second (Accentus ACC10238) and Eighth (ACC10222) released in 2012, these nonpareil performances realize Mahler's genius as an orchestrator and music visionary. As before, no one on the stage is on automatic pilot…they are all in the moment. My attention was rapt through gossamer pianissimos to translucent, shattering tuttis. I'm sold.
Bruce Surtees