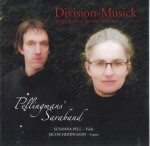 Division-Musicke – English duos for viol and lute
Susanna Pell; Jacob Heringman
Pellingmans' Saraband PS001
According to Christopher Simpson in the 1659 publication The Division Violist, as quoted in the Harvard Dictionary of Music, the term Division refers to the prevailingly English practice of a harpsichordist playing a ground bass to which a viol or flute player, "having the said ground before his eye, plays such a variety of descant or division in concordance thereto as his skill and present invention do then suggest to him." Pellingmans' Saraband perform eighteen divisions on this, their maiden CD. They adventurously describe playing these often complex and demanding divisions as the equivalent of jazz improvisation!
No one can fault their dedication to the art of the division. Barafostus' Dream is truly testing – Susanna Pell rises to the challenge of the solo version specifically scored for treble viol. On the CD she follows with the exhilarating divisions based anonymously on Greensleeves.
The divisions selected were written between the late 16th century and the early 18th. Two factors the pieces have in common are the complexity of their divisions and the sense of joyfulness with which they are played. This is certainly true of Gottfried Finger's Divisions, where Pell's spirited playing livens up more formal compositions.
Very often, the collection features popular dance tunes which were arranged by established composers. The names of some of these composers have come down to us. Others remain anonymous, but Jacob Heringman plays Green Garters with sympathy and zest; Pell's Paul's Steeple, which immediately follows, equals it in both qualities.
The divisions are not confined to English composers. London-based Giovanni Battista Draghi's aptly named Italian Ground is sensitively performed by both musicians. The same is true of three pieces by Solomon Eccles, who was one of the last composers of divisions before Italian sonatas became popular.
Both musicians tackle their divisions with relish. The Leaves be Green always demands virtuosic skills; Heringman obliges. Pell responds with A New Division to a Ground by Eccles. This compilation also comprises some more Elizabethan favourites such as Go From My Window, but a division by Christopher Simpson scored for bass viol looks towards the Baroque future. Note: physical copies of these CDs are exclusively available from www.heringman.com and www.pellingman.co.uk.