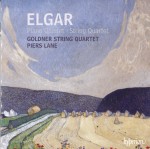 Elgar - Piano Quintet; String Quartet
Piers Lane; Goldner String Quartet
Hyperion CDA67857
Elgar has always been more famous for his large-scale orchestral and choral works than for his chamber music, but included among his output are a fine string quartet and a piano quintet. Both pieces were written over a two year period between 1918 and 1919 when the aging composer was residing in a cottage in West Sussex – and both are presented here on this Hyperion recording by the Australian-based Goldner String Quartet with pianist Piers Lane.
The quartet is an appealing anachronism. After all, only six years before, Stravinsky's Rite of Spring had caused a scandal in Paris, while in Vienna, the Second Viennese School was making strides with serialism. Elgar himself admitted, "It is full of golden sounds… but you must not expect anything violently chromatic or cubist." Nonetheless, this is elegant music, elegantly played, and the Goldners handle the intricate string writing with its subtle harmonic shifts with great precision and warmth.
The more expansive piano quintet is equally conservative, but is marked by a considerably more serious tone. Piers Lane and the quartet are perfectly matched, treating the tempestuous opening movement with bold assurance. Similarly, the middle movement adagio is given the pathos and anguish it deserves, while the finale, with its mood of buoyant optimism, brings the disc to a satisfying conclusion.
Between the two chamber works are four hitherto unrecorded solo piano pieces, two dating from the early 1930s, and all of them, charming examples of Elgar's keyboard style. In all, this is an exemplary recording of music written by a composer who was nearing the final chapter of his creative life - there's hope for us all!