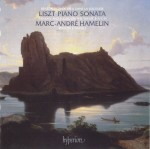 Liszt - Piano Sonata
Marc-André Hamelin
Hyperion CDA67760
In April, I had the pleasure of reviewing the double disc set of Marc-André Hamelin performing the complete Liszt Années de Pélerinage. Now he is back with more music by the "Mephistopheles disguised as an abbé" on this Hyperion recording comprising four works including the great Piano Sonata in B minor.
Opening the CD is the Fantasy and Fugue on the letters B-A-C-H, Liszt's homage to Johann Sebastian Bach. The piece was originally written for organ in 1854, but a revised version for piano appeared 14 years later. Hamelin demonstrates a solid command of the pianistic pyrotechnics inherent here, and we can only imagine today how 19th century audiences must have adored this type of showstopper, broken piano strings and all!
A welcome contrast is the piece that follows, the serene Benediction de Dieu dans la Solitude, from the collection Harmonies poétiques et religieuses completed in 1853. I have always likened this composition to a serene lake (maybe Lac Maggiore?) with the opening measures a lyrical melody heard in the bass, and a rippling accompaniment provided by the right hand. Any evidence of bombast and virtuosity are noticeably absent in this marvellously expansive composition, and Hamelin's performance shimmers with a wonderful luminosity.
The Sonata in B minor - preceded by a set of three short pieces, Gondoliera, Canzone, and Tarantella - has had both admirers and detractors since its publication in 1854. Yet there is no denying the meticulous craftsmanship and wealth of ideas contained within. Hamelin approaches it with a bold assurance, making ease of the abundant technical demands and the ever-contrasting moods. What a sense of mystery he achieves in those cryptic opening measures before the appearance of the strident octaves in the secondary theme! This is a superb performance, easily among the best currently available, and rounds out another fitting tribute to Liszt's bicentenary.