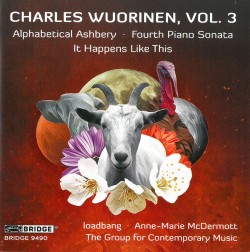 Charles Wuorinen Vol. 3
loadbang; Anne-Marie McDermott; Group for Contemporary Music; Charles Wuorinen
Bridge Records 9490 (bridgerecords.com)
Among the most prolific of contemporary American composers, the 79-year old Charles Wuorinen's catalogue of 260-plus compositions includes works for opera, orchestra and chamber music, as well as solo instruments and voice. He has received many awards, including the Pulitzer Prize and the MacArthur Fellowship. The 2014 Madrid premiere of Wuorinen's opera, set on Annie Proulx's Brokeback Mountain, was covered by international media and has had several subsequent European productions.
Anthony Tommasini in his 2014 New York Times review characterized Wuorinen as an "unabashedly complex Modernist." And while in 2008 Wuorinen called the term serialism "almost without meaning," nevertheless his career-long commitment to 12-tone composition is clear, with Schoenberg, Berg, late Stravinsky and Babbitt cited among primary influences. Fractals and Mandelbrot mathematical sets are also central to Wuorinen's recent compositional procedures.
Much of Wuorinen's music makes great technical demands on musicians, including tonal leaps, extreme dynamic contrasts, and rapid exchange of pitches, all requiring extreme precision and virtuosity. This is all on ample display in the three works on Charles Wuorinen, Vol. 3.
The album opens with Alphabetical Ashbery (2013) a song cycle/motet marked by the free-flowing, playful and often disjunctive poems by the American poet John Ashbery performed by the unique forces of loadbang: Jeffrey Gavett, baritone, Carlos Cordeiro, bass clarinet, Andy Kozar, trumpet and William Lang, trombone. The muscular and substantial Fourth Piano Sonata (2007), the latest and most traditionally structured of Wuorinen's works in this genre, is definitively rendered by the brilliant pianist Anne-Marie McDermott. It Happens Like This (2010) closes the CD. At just over 39 minutes in seven bite-sized movements, this four-voice cantata is set to American modernist James Tate's surrealistic poems, providing a charming close to our musical visit with one of America's enduring elder statesmen of composition.