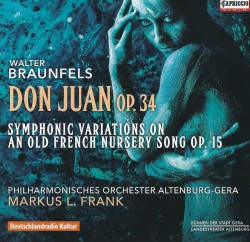 Walter Braunfels: Don Juan; Symphonic Variations on an Old French Nursery Song
Altenburg-Gera Philharmonic Orchestra; Markus L. Frank
Capriccio CD C5250
Review
Born in Frankfurt am Main, Walter Braunfels (1882-1954) was the best, most well-equipped of the German composers whom the Nazis managed to sideline completely after their ascension to power in 1933. Braunfels seems to have been the most surprised at being outed as a Jew since he considered himself a staunch, practising Roman Catholic. He was already in mid-career, having produced a string of major compositions. In fact, the Cologne Conservatory had been especially formed around Braunfels as principal. He belongs in the same user-friendly idiom as Richard Strauss although he sounds nothing like Strauss. He had already written his operatic masterpiece, The Birds, an excellent recording of which can be found on Decca in their Entartete Kunst series. Three of his other operas enjoy fine recordings.
Don Juan was written when the composer was at the pinnacle of his career. This is very much the Don Giovanni of Mozart, specifically the Champagne Aria upon which there are seven entertaining variations. It was premiered by Wilhelm Furtwängler in 1924.
The Symphonic Variations on an Old French Nursery Song dates from 1909 and remained in the repertoire until 1933 when it was banned. It is a thoughtful, more serious work, beautifully orchestrated. Neither work presents any challenges to the musicians or the listener.
In case you're wondering, in 2001 the Provincial Orchestra of Altenburg amalgamated with Philharmonic Orchestra of Gera, forming an orchestra that honours the centuries-old traditions of both cities.