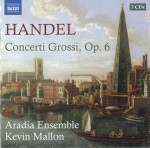 Handel – Concerti Grossi Op.6
Aradia Ensemble; Kevin Mallon
Naxos 8.557358-60
Toronto's early music Aradia Ensemble, under the energetic direction of conductor/violinist Kevin Mallon, performs with grace and momentum in this three-disc collection of George Frideric Handel's 12 Concerti Grossi, Op.6.
Composed over the period of a few weeks, the first seven Concerti are scored for the concertino solo group of two violins and cello, and ripieno orchestra of strings and continuo. Mallon's first violin solos are impeccable, with Genevieve Gillardeau and Cristina Zacharias taking turns in the second chair. The rich cello concertino solos are well performed by Allen Whear and Katie Rietman. As the liner notes explain, Handel began composing oboe parts later, possibly for the theatre, but never completed them. Aradia oboists Stephen Bard, Chris Palemeta and Kathryn Montoya play these wind parts in Nos.8 to 12. The richness of the winds adds a welcome extra layer of texture. In the compositional style of the day, there are numerous references to Handel's other works, as well as a nod to composers such as Domenico Scarlatti, and folk music idioms including the Sicilian dance and English hornpipe.
This is music to listen to intently in order to marvel at Aradia's phrasing, ornamentation and stylistic interpretation. And as background music, the drive and spirit of the performances will brighten even the most drab of days. The strings shine, especially in the cohesive descending lines of No.2 and the triumphant trumpet-like opening of the Overture of No.5,while the resonating double bass of J. Tracy Mortimore adds depth and support, especially in the Musette of No.6.
The sound quality is clear, with each instrumental line carefully balanced. The liner notes are informative and concise. Mallon has brought out the very best in his Aradia ensemble as their passionate performances radiate Handel's inquisitive artistry.