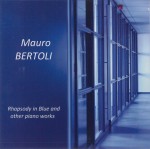 Rhapsody in Blue and other piano works
Mauro Bertoli
Cavalli Musica
From Mozart to Khachaturian
Mauro Bertoli
Cavalli Musica
Piano Works by Scarlatti; Schumann; Granados; Ginastera
Mauro Bertoli
Cavalli Musica
www.maurobertoli.com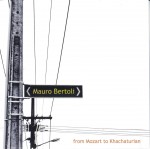 In the world of classical music, Italy has long been known for producing famous singers and conductors. For some reason, though, the list of renowned Italian pianists is considerably shorter — Arturo Benedetti Michelangeli and Maurizio Pollini are among those who come to mind. However, with the release of three CDs on the Cavalli Musica label featuring a young artist by the name of Mauro Bertoli, that list should be immediately augmented! Born in Italy, Mr. Bertoli has been the recipient of several international piano prizes including the prestigious Giuseppe Sinopoli Award in 2006, and he has appeared in major concert halls throughout Europe, North America, Israel and China. It's our good fortune that he has decided to settle in Canada, where he's currently on the piano performance faculty at Carleton University in Ottawa.
At the outset, these discs are impressive with their eclecticism. While certain pianists tend to concentrate on music of certain periods, or by particular composers, Bertoli's repertoire is wide and encompassing, spanning 300 years of piano literature. For example, the CD Rhapsody in Blue and Other Piano Works, focuses primarily on music from the romantic period, with pieces by Schumann, Brahms and Liszt, but also included is the brief and poignant Für Alina by Arvo Pärt. The Brahms Intermezzo Op.188, No.2 and the Liszt Romance S169 are warmly introspective, while the Schumann Toccata Op.7 aptly demonstrates Bertoli's flawless command of the keyboard. In contrast, Gershwin's Rhapsody in Blue provides a rousing conclusion. Bertoli may hail from the land of olive trees, but his convincing interpretation of this jazzy and syncopated music from 1924 has "Manhattan" written all over it.
The disc From Mozart to Khachaturian is another study in contrasts. Opening with Mozart's poetic and gracious Rondo K494, the disc also features two of Liszt's Hungarian Rhapsodies, Schumann's Sonata for the Young, Op.118, Granados' Allegro de Concert and Shostakovich's Three Fantastic Dances — a virtual United Nations of piano literature.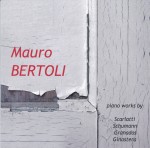 Not many pianists today turn their attention to keyboard music of the Italian Baroque, but three sonatas by Domenico Scarlatti lead off the third disc, all of them demonstrating Bertoli's manual dexterity and acute sense of timing. Also on this CD are the Schumann Paganini Etudes, Op.3 and Nachtstücke, Op.23. But for me, the highlight of this recording is surely the set of three Danzas Argentinas by Alberto Ginastera. Written in 1937, this music dates from early in the composer's career and is challenging from all perspectives. With their complex rhythms and chromatic harmonies, these dances might faze many pianists, but Bertoli handles the complexities with apparent ease, bringing the disc to a spirited conclusion.
My only quibble with all three discs is the recording quality, which I found somewhat "dry." Fine playing such as this deserves a decent sound, and a little more resonance would have been preferable. But this is minor issue and certainly doesn't detract from these eclectic collections of piano repertoire. Bravissimo, Mr. Bertoli — let's hear from you again!
Concert Notes: Bertoli is pianist-in-residence at Barrie's Colours of Music festival (September 21 to 30) and will be performing several concerts there including Strauss' Enoch Arden with actor Kevin White on the 24th and a solo recital on September 30 featuring works by Gershwin, Khachaturian and Schumann; he will also conduct a masterclass on September 27. On October 7, Bertoli performs at U of T's Hart House for their Sunday Concert Series.