Adding another voice to an established improvising ensemble is more precarious than it seems. With a group having worked out strategies allowing for individual expression within a larger context— and without notated cues— the visitor(s) must be original without unbalancing the interface. Luckily the sessions here demonstrate successful applications.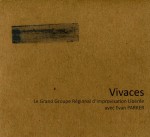 Invited to Rimouski, Quebec to give a workshop, British saxophonist Evan Parker also participated in Vivaces (Tour de Bras TDB9006 CD www.tourdebras.com), recorded with the 12-piece Grand Groupe Régional d'Improvisation Libéréeor Le GGRIL. Made up of players from different musical backgrounds living in the Lower Saint-Lawrence region, GGRIL is distinctive in that the group includes two electric guitarists, an electric bassist plus two accordionists, but only three horn players. Using these circumstances to best advantage, these tracks, alternately directed by Parker and GGRIL violinist Raphaël Arsensault, employ the accordionists' tremolo pulsing and sweeping electronic oscillations to thicken the bottom. With upturned slices from the strings and barnyard cries from the squeeze boxes, two clarinets and the tuba, it's often Parker's restrained undertone that gives a linear shape to the improvisation. The best example of this is Marcottagethat manages to include contributions from nearly every GGRILer. As Parker pushes forward with staccato split tones he's backed by sympathetic grace notes from fellow guest, trombonist Scott Thomson, and skittering, slurring accordion lines. Triangle pings signal a timbral shift and presage a ferocious solo from the saxophonist. Band members' responses range from rebounding percussion ratamacues, crackling electronic runs from the guitars and bass plus one accordionist sounding a faux balladic line as the other pumps powerfully. Finally the mass cacophony downshifts to a satisfying connective rumble.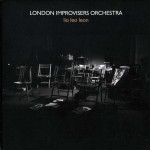 The London Improvisers Orchestra (LIO) deals with similar situations during a recital on Lio Leo Leon (psi 11.04 www.emanemdisc.com/psi.html) where group improvisations are supplemented by two specific concertos. Conducted by guitarist Dave Tucker, Concerto for Ishmael Wadada Leo Smith & Orchestra features veteran American trumpeter Smith, who has been involved in similar situations since the mid-1960s. The other, Concerto for soft-loud key-box No.2, is conducted by pianist Steve Beresford and designed for pianist Leon Michener, who is comfortable with both improvised and notated music. Mostly concerned with textural melding and displacement, the 38-piece LIO makes maximum use of counterpoint. Some tracks depend on harmonies among stringed instruments; others mate kettle drum smacks with light flute puffs; most climax as passing tones coalesce into linear narratives.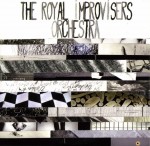 More cacophonous then the LIO with a mere 21 members, Amsterdam's Royal Improvisers Orchestra (RIO) actually find a more cohesive direction on His Composition, the track on Live at the Bimhuis (Riot Impro 01 www.royalimprovisersorchestra.com) featuring veteran Dutch drummer Han Bennink. Encompassing as many of The Netherlands' top improvisers as the LIO does the United Kingdom's, the RIO is commandingly inventive throughout. Still, the resulting Klangfarbenmelodie often sounds as if every player wants to be heard – no matter what. Thus an extended throaty tenor saxophone solo evolves beside burping bassoon lines plus low-pitched flute blowing. Electronics crackle in-and-out of the sequences as the RIO's two guitarists produce distorted licks. The contrast between thematic material and free-form interjections is made sonically murkier when two female vocalists yowl inhumanly or scat-sing rhythmically. Using distinctive brush work which has powered many an ensemble over the past 50 years, Bennink introduces a variation of easy-going swing on his track, while leaving plenty of space for avant touches, including descending slides from the four string players; galloping tremolo from the pianist and some impressive flutter-tonguing from saxophonists John Dikeman and Yedo Gibson. At the same time Bennink's contributions indicate performance shifts and lead the band to a crescendo that also serves as a satisfying finale.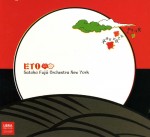 The situation on ETO (Libra Records 215-029 www.librarecords.com) is a little different, since it's pianist Satoko Fujii and her husband, trumpeter Natsuki Tamura who are the outsiders with her Orchestra New York. Fujii, who also leads Japanese bands, frequently assembles this 15-strong collection of some of Manhattan's first-call musicians to play her compositions. Here, the pianist has written a suite in honour of Tamura's 60th birthday, with soloists celebrating 12 animals in the zodiac. Along the line of Duke Ellington's musical cameos such as Concerto for Cootie, and Self Portrait (of the Bean), her arrangements for these anthropomorphic showcases depend on subtle harmonization of the orchestra's alternately swinging and sympathetic backing to frame the soloists. Among the stand-outs are Ox, where Joey Sellers' loose-limbed, mid-range trombone floats on orchestral pulsations; drummer Aaron Alexander's percussive drum backbeat alongside Oscar Noriega's liquid alto saxophone licks on Ram; and subsequent trumpet solos from Frank London and Herb Robertson on Monkey and Rooster respectively which in the first instance mate hand-muted plunger work with an infectious staccato theme played by Fujii; and on the other use reed riffs to highlight Robertson's mixture of half-valve effects and pure blowing. Not to be outdone, on Snake the birthday boy follows a more experimental strategy, with double-tongued growls and subterranean guffaws. But his solo is still aligned with the bouncy contrapuntal melody.
Tamura's and Fujii's subtly connecting additions to an existing band plan demonstrate how novel conceptions can fit in with those from an existing improvising ensemble. Parker, Bennink, Smith and Michener do the same on the other fine CDs.