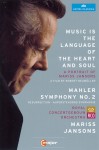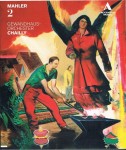 Music is the Language of the Heart and Soul: Mahler – Symphony No.2
Ricarda Merbeth; Bernarda Fink; Netherlands Radio Choir; Royal
Concertgebouw Orchestra; Mariss Jansons
Cmajor 709708
Mahler – Symphony No.2
Christiane Oelze; Sarah Connolly; MDR Rundfunkchor; Berliner
Rundfunkchor; GewandhausChor; Gewandhaus Orchestra, Leipzig;
Riccardo Chailly
Accentus Music ACC10238
The above Blu-ray sets enter a well-populated community of commendable recorded performances that stretch back to c.1923 when Oskar Fried, who had conducted the premier performance in 1905 and to whom Mahler had conveyed all he should know about the work, conducted it for Polydor. Balancing orchestra, soloists and choir was a monumental undertaking in the acoustic era and one wonders how many sets they had hoped to sell, particularly when Mahler's works were not as deeply admired then. That Polydor not-for-audiophiles recording is available on a 2-CD set from Pearl (CDS 9929).
Each of these new videos presents a performance that will satisfy the most ardent and jaded critic. Both orchestras are at home with the score and the soloists in each are well-matched. Of course, the vocal mavens may have their personal opinions about the choice of soloists but, to these ears, there are no good reasons for any petty or insignificant objections. There are no complaints about the state-of-the-art video production in either version and the audio is equally matched in presence and detail.
I watched the Jansons first and heard a very romantic performance, indicating that the conductor is comfortable with the score and views the work as belonging to its past and not as a portent of things to come.
I may not have felt this so acutely had I not, soon after, played the Chailly version. There is a real sense of hearing something new and exciting … from unexpected, subtle instrumental inflections and phrasing to the just perceptible spaces between phrases. The musicians are caught up in the excitement and significance of their parts, often playing like they have their feet in ice-water. The last movement and the closing pages are devastating. Repeated viewings have not dampened my enthusiasm for the Chailly in any way.
The Concertgebouw disc includes a 50+ minute videography of Jansons entitled Music is the Language of the Heart and Soul. There is a companion Blu-ray disc of the Eighth Symphony from the 2011 Mahler Festival in Leipzig that I have put off playing until the "right" time.