One Last Summer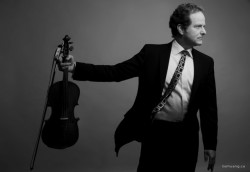 For better or worse, this summer will be one of big musical changes. For one, this year will be Douglas McNabney's last as director of the celebrated Toronto Summer Music Festival, and TSM has just announced his successor: none other than TSO concertmaster Jonathan Crow.
The choice is not entirely unexpected. Crow is already familiar with the Toronto Summer Music scene, appearing there regularly as a guest performer and mentor at the festival academy. And as a frequent performer both in Toronto and on the festival circuit, Crow certainly has the musical chops to know what makes festival programs work.
"Jonathan has amazing credentials and brings his extremely impressive talents as a performer and skills as an artistic administrator to TSM," says Lawrence Herman, Chair of the TSM Board of Directors. "We couldn't be more pleased and excited to be welcoming [him]."
That's not to say that he doesn't have big shoes to fill. McNabney, who will officially step down from his position this August, has shown a talent these past five years for exceptional festival programming. 2016 will be no exception. McNabney's final run with TSM, titled "London Calling," promises a three-week exploration of British music, "from the baroque to the British Invasion."
In a 2013 interview with Trish Crawford of the Toronto Star, McNabney spoke of Toronto Summer Music as "an oasis in a desertlike musical scene"—a concert-goer's saving grace during a time of year when most music presenters pack up for vacation. With Jonathan Crow soon at its helm, hopefully the festival will continue to be such an oasis, for many years to come.
For a sneak preview of "London Calling," running from July 14 to August 6, head to the Four Seasons Centre tomorrow (Wednesday May 18) at noon for a free lunchtime concert featuring Axel Strauss and alumni from the TSM academy. Details at http://www.torontosummermusic.com/special-events/. And for a look into McNabney's earliest musical memories, be sure to check out his recent interview in our Music's Children column, from our May issue: http://www.thewholenote.com/index.php/newsroom/musical-life/whoismusicalchild/26032-may-s-child-douglas-mcnabney.
On a less positive note across the Atlantic, it looks like this summer will also serve as swan song for the EUYO, the European Union's premier youth orchestra. After being cut off from EU funding, the orchestra is due to cease operations after its 2016 summer tour. It's hard to imagine where young musician hopefuls would be in Canada without something like the NYOC, and harder still to see the European Union lose their equivalent. Orchestra admin have started a campaign, #SAVEEUYO, to try to rescue the orchestra from closure—for details, visit http://www.euyo.eu/discover/news/.
Music in Miniature: Tiny instruments in concert this month
Like all good things, music sometimes comes in small packages. At least, that's how it seems this month in the Toronto new music scene, where a number of upcoming shows, rather than using instruments that are common classical fare, have chosen instead to feature their miniature cousins.
This Thursday (May 19) at 8pm, junctQin keyboard collective presents "Tomi Räisänen: A Portrait," a look into some of the Finnish composer's most recent musical work. That work includes two world premieres, music scored for "guitar and balloons," and a piece for two toy pianos and tape. For the members of junctQin, who are always eager to experiment with keyboard instruments of all sorts and kinds, the toy piano duet will be an opportunity to bring some less common keyboard timbres to the table. The concert is the culmination of Räisänen's week-long residency with junctQin in Toronto, and well worth a watch. Details: https://www.facebook.com/events/612637242219789/.
One week later on May 26, the musicians of Continuum Contemporary Music present "Japan: NEXT," their main contribution to the RCM's 21C Festival. UK-based ensemble Okeanos is travelling to Toronto for the festival—and they're bringing two shōs (Japanese mouth organs) with them.
A free reed instrument like the harmonica or accordion, the shō was originally used in Japanese gagaku court music, but is increasingly gaining traction among contemporary composers, especially after John Cage composed several of his Number Pieces in the early 90s for famous shō player Mayumi Miyata. Naomi Sato, a saxophonist and shō player currently based in the Netherlands, captures some of the instrument's unique timbral qualities in this video: https://www.youtube.com/watch?v=yUpr1F1dZt0.
To hear more, visit Continuum's website to find the details of their upcoming concert.
PRIZES, PRIZES!
Exclusive contests from The WholeNote
IN THIS ISSUE: 24 HOURS ONLY to win tickets to hear Alison Mackay's latest Tafelmusik creation "Tales of 2 Cities: The Leipzig-Damascus Coffee Houses" this Friday, or tickets to hear award-winning soprano Kathleen Battle in her May 29 program about the Underground Railroad.
Follow the links below:
Tafelmusik: Tales of 2 Cities, Friday May 20
Roy Thomson Hall: Kathleen Battle - Underground Railroad, Sunday May 29
JUST IN: CORRECTED AND NEW LISTINGS
FEATURED LISTING: Suite Melody Care Benefit Concert, May 27 at 6:30pm
On Friday, May 27, Canadian Music Competition prizewinner Leslie Ashworth joins forces with top-notch local performers violist Eric Nowlin, violinist Barry Shiffman and pianist Dianne Werner, in a fundraising event for her non-profit Suite Melody Care. A youth volunteer community program, Suite Melody Care organizes concerts by young volunteer performers in long-term care facilities, retirement homes and hospitals, linking young musicians with audiences in need across the province. For details on the fundraiser event, see our listings below or visit www.suitemelodycare.com.
Other new/corrected May concert listings added online since our last print issue are as follows:
Thursday May 19
7:00: Alberto Munarriz. Tango Seminar three: Golden era and decline - 1930s to 1960s. Part three of four in a lecture series on the history of tango. University of Toronto Faculty of Social Work, 246 Bloor St. W. $15/PWYC. More info: alberto.j.munarriz@gmail.com.
8:30: Hugh's Room. NeeMa CD release. Opener: Abigail Lapell. 2261 Dundas St. W. 416-531-6604. $22.50(adv); $25(door).
Friday May 20
8:30: Hugh's Room. Crystal Shawanda. 2261 Dundas St. W. 416-531-6604. $30(adv); $35(door).
Wednesday May 25
7:30: Gravenhurst Opera House. Fats Meets Louis. A celebration of the music of Fats Waller and Louis Armstrong. Jon Seiger, piano/trumpet/voice; Neville Dickie; Jack Hutton. 295 Muskoka Rd. S., Gravenhurst. 888-495-8888. $25(adv); $30(door).
7:30: Toronto Concert Orchestra. Grieg Piano Concerto No. 2. Carl Petersson, piano; Mira Solovianenko, soprano; Anna Shalaykevych, piano; Kerry Stratton, conductor; Harp Sinfonia (Andrew Chan, conductor). Liberty Grand, 25 British Columbia Rd. $65.
Thursday May 26
7:00: Alberto Munarriz. Tango Seminar four: New Paths...no just Piazzolla - 1960s to present. Part four of four in a lecture series on the history of tango. University of Toronto Faculty of Social Work, 246 Bloor St. W. $15/PWYC. More info: alberto.j.munarriz@gmail.com.
Friday May 27
6:00: Gravenhurst Opera House. Summer Season Gala. Gala evening of music and food. Sheila McCarthy; Marc Jordan; Russell deCarle; Kenny Munshaw; the Johnny Max Band; and others. 295 Muskoka Rd. S., Gravenhurst. 888-495-8888. $50. This gala, in support of Meagan's Walk, also features a 'Taste of Gravenhurst' featuring samplings from local chefs.
6:30: Suite Melody Care. Benefit Concert and CD/DVD Release. Private fundraiser concert with reception, dinner and CD/DVD. Bach; Mozart; Beethoven; Dvorak; and others. Leslie Ashworth, violin/viola/piano; Eric Nowlin, viola; Barry Shiffman, violin; Dianne Werner, piano. University Club of Toronto, 380 University Ave. 289-681-8154. $125 (includes reception, dinner with wine, concert and CD/DVD).
8:30: Hugh's Room. Mad Dogs and Englishmen. 2261 Dundas St. W. 416-531-6604. $40(adv); $45(door).
9:00: Jazz Bistro. AMERANOUCHE. 251 Victoria St. 416-363-5299. $12. Second set 10:30pm. Also May 28 ($15).
Saturday May 28
4:30: Music @ Main & Danforth. What a wonderful world: A Jazz Vespers. A selection of Jazz standards. Bill MacLean, vocals; Michael LaLonde, bass; Brian Stevens, piano. Hope United Church, 2550 Danforth Ave. 416-691-9682. Free.
7:00: Milton Choristers. Canada Sings, Eh? A celebration of Canadian music. Knox Presbyterian Church (Milton), 170 Main St. E., Milton. 905-875-1730. $25; $5(st/child).
9:00: Jazz Bistro. AMERANOUCHE. 251 Victoria St. 416-363-5299. $15. Second set 10:30pm. Also May 27 ($12).
Sunday May 29
2:00: Hugh's Room. Ella and Louis Remembered – 60th Verve Anniversary Celebration. Tribute to Ella Fitzgerald & Louis Armstrong. 2261 Dundas St. W. 416-531-6604. $25(adv); $27.50(door).
3:30: Jubilate Singers. Spring Songs. Pops, Broadway, folk and Mozart. Polson Park Free Methodist Church, 139 Robert Wallace Dr., Kingston. 613-389-8110. Donations appreciated.
4:00: Harbourfront Centre. Barbados on the Water's Sunday Afternoon Jazz. Marisa Lindsay, voice; Vita Chambers, voice; Eddie Bullen, piano. 235 Queens Quay W. 416-973-4000. $15.
7:30: Mississauga Big Band Jazz Ensemble. The Music of Gil Evans and Miles Davis. Brian Kane, trumpet; Bruce Cassidy, EVI. Humber College Auditorium, 3199 Lakeshore Blvd. W. 905-270-4757. $20; $10(sr/st).
Saturday June 4
8:00: Spectrum Music. Tower of Babel. New music by the Spectrum composers evoking interpretations on the story of the Tower of Babel. Amos Hoffman, oud/guitar; Noam Lemish, piano; Peter Lutek, clarinet; Justin Gray, bass; Derek Gray, drums. Alliance Française de Toronto, 24 Spadina Rd. $15; $10 sr/st/arts worker. Pre-concert chat at 7:15.
THANKS FOR SUBSCRIBING
The next issue of HalfTones, Vol 3 No 10, will be out on Wednesday, June 15, 2016. Our summer print issue of the magazine, covering June 1-September 7, will be on the stands at the end of May.
Please contact halftones@thewholenote.com with any HalfTones inquiries.
Sara Constant is social media editor at The WholeNote and studies musicology at the University of Amsterdam. She can be contacted at editorial@thewholenote.com.