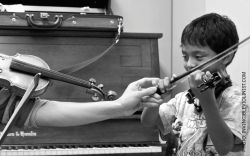 Grandparents, and parents, for that matter, who know what music gave you in life, give ear! How about handing down to your grandchildren (or children) a gift that will last a lifetime? What I'm suggesting is music lessons, which are a life-changing experience, especially when they begin early.
Historically, at least since the days when music was taught as one of the medieval seven liberal arts, there has been general agreement that music is an important part of education. Even when I went to elementary school many decades ago music was pretty well a daily occurrence, and one we all looked forward to. Tone-matching drills in tonic sol-fa, learning songs in unison and from grade four or five on, in parts, was fun and engaging. Eventually, in grade seven, as I recall, I realized that yes, I could read (sing) music at sight but only up to a point, and that being able to do it so much better could and should be possible. It was a profound realization, recognition of the fact that something that had up to that point just been fun and a pleasant diversion from the other stuff we did at school, had actually caused some kind of psychic "muscle" to develop in me, but only up to a point. I had had enough music to benefit, but not enough to go as far as I intuitively knew was possible.
Fast forward a couple of decades and I had a family of my own, two boys in rapid succession and then five and a half years later, a third. Wise reflections on my childhood musical education were not even on the back burner; my own struggles overcoming many years of bad habits on the flute and running a high school instrumental music program trumped interest in my children's musical education. We tried Suzuki violin with the two older boys, but it seemed at the time not to be the right thing for them. I say "at the time," because as a teenager my older son seemed magically to have the gift of being able to pick up any plucked stringed instrument and play it.
Fast forward another three decades and now I have grandchildren. Remembering my children dropping out of Suzuki violin has led me to think that starting the violin at the age of four with no prior musical experience was probably not a good idea. I also realized that I could not expect much musical instruction from the schools. I had learned (through The WholeNote actually) about an early childhood music program offered in my children's part of town by Sophia Grigoriadis. So I paid for my oldest granddaughter's classes in this program. Reports came back that she loved the classes and, what's more, loved Sophia. Encouraging to say the least!
After two years in Sophia's program, at the age of four, she was too old to continue and it was time to move on. I had learned that the Beaches Children's Chorus, located in the east end not too far from us, was adding a choir for four and five year-olds. I registered my granddaughter in it, and began taking her to, and observing, the weekly rehearsals back in September 2011. I really liked the way musical director, Bronwen Low, worked with the children, introducing them to singing by making sounds to go with amusing stories: "…he went u-u-u-u-u-u-u-u-p (voices starting low and sliding high) the hill and d-o-o-o-o-o-o-o-w-n (voices starting high and sliding low) the hill." The children were totally engaged from day one and after a few months were singing together, confident, in tune and happy. Now in her third year, my granddaughter has moved up to the next level, and loves it more than ever.
One of the things Bronwen has been focussing on in her group is the development of relative pitch, the ability to hear the distance between pitches reliably enough to sing a notated line of music. Bronwen is using the Kodály (or Curwen) hand signs, which take the place of written notes, and make "sight singing" a shared, communal experience. This is the development of the same "psychic muscle" I remember developing in me as a child, that has stood me in good stead throughout my own life. There are other things the children are learning as well: working together co-operatively, listening to and following instructions, and the discipline to focus and work on demand. It seems to me that there is a level of maturity that is fast-tracked by participating in this type of program.
Sharon Burlacoff, the director of the Kingsway Conservatory of Music where I do some of my own teaching is an early childhood music specialist. We talked about the benefits of participation in early childhood music programs. "I read somewhere," she told me, "that there is more brain development between 12 and 24 months than at any other time of life." Exposure to music in infancy and early childhood has a tremendous influence on how the brain processes information. One baby, who got started in her program at the age of five months, now, at the age of ten months connects words and actions. Even though babies generally begin to talk after the age of one, the foundation for speech is being laid in the first year of life, and music definitely helps with that. Another benefit is the social development and sense of self that accrues to participants in this sort of program. Children develop self-esteem and confidence in expressing themselves.
Earlier I mentioned the Suzuki (violin) method. As it happens, mid-January I went to a concert given by pianist and U of T professor, John Kruspe, and his two extraordinarily accomplished violinist children, Jamie and Emily. Both, John told me, began violin around the age of two, taught by his wife, Cathie Goldberg, using the Suzuki method. She supervised their practising every day, seven days a week, the only breaks being out–of-town vacations. "She did a fantastic job, so much so that when they came to study with, for example, Erika Raum and Jacques Israelievitch (Emily and Jamie respectively), neither teacher had much if any technical changes to make, and in fact Erika commented on how well they both were set up." In addition both studied piano and clarinet, and, according to Kruspe, are both blessed with wonderful ears and (thanks in part to the Suzuki emphasis on listening, I think), a highly developed skill in memorization; and both sight read so well that it's as if they have been working at it for weeks!
Admittedly, the situation of being taught every day by a mother who is a professional musician and teacher, is unusual, but Emily and Jamie's story is indicative of what the Suzuki method has made possible.
There are many teachers and programs around; many if not all should be much more easily findable in the coming months in the educational search engine we are devoting our energies to developing on The WholeNote website. Each child is different, and no program will ever be right for all, but I firmly believe there is a "right teacher" out there for everyone. Your child or grandchild may even thank you right now for the helping hand. Better still, the gift of music, once handed down, is never gone.
Allan Pulker is co-founder of The WholeNote and plays and teaches flute and recorder. You can contact him at allan@thewholenote.com