Opera has pushed hi-tech envelopes from the birth of this modern art form in 1600.  Seventeenth century Italian opera utilized all the early capitalist technology it could lay its hands on to create a multimedia experience.  It was a total art form two centuries before Wagner bragged about inventing the practice.
The marriage of opera and hi-tech marches ahead in our own time, and the Metropolitan Opera leads the parade, and has been doing so for over a century.  In 1901, the Met pulled off the first recordings of live opera performances via the new medium of wax cylinders. In 1931, its live Saturday afternoon international radio broadcasts kicked off and became a staple for music lovers across the globe.  The Met became the pioneer in live stereo radio broadcasting in 1973.
On the visual front, the Met organized its first live TV broadcasts in 1948 and then moved to the 1952 precursor of today's HD satellite transmissions, a live cine-cast to 27 theatres. The live HD broadcasts kicked off in the autumn of 2006, and now reach 900 packed movie theatres across the globe.
The Met's newest hi-tech venture is streaming high definition video and audio over the Internet.  Its Met Player subscription service will ultimately include all the HD Live performances within several months of playing in theatres; all the Met performances that appeared on PBS television since 1977; and the radio broadcasts from 1937 onwards.

The $64,000 question is whether today's relatively high speed cable and DSL lines are fast enough. There's little question they will, in the not too distant future. But, with respect to the operability of the Met Player now...? After test runs of the Met Player in HD mode, I'm very pleased to report that we are — provided one has a newer computer with capabilities that would have cost a bundle not too long ago, but are modestly priced today.
The price for the Met Player subscription itself is certainly right, and the service is available in Canada, or anywhere else in the world where government policy or private monopolies don't interfere: US $14.99 per month, or $149.99 yearly (and you thought it wasn't possible to buy anything from New York for $15).
With New York street prices for Blu-Ray opera disks ranging from US $21 to $38, and higher yet in Canada, it doesn't take many viewings to make the Met subscription pay for itself.  One can also rent access to HD broadcasts for $4.99, or standard broadcasts for $3.99 (must be accessed within 30 days, with a 6 hours maximum viewing time). A monthly subscription is clearly a better deal, and a free 7-day trial, offered at www.metopera.org. A potential glitch, not the Met's doing,  in this happy pricing situation: greedy Internet service providers tacking on extra charges, and not small charges at that, when the combined volume of monthly downloading and uploading files exceeds an imposed threshold. Check your provider's policy in order to avoid a nasty surprise at the end of the month. And look for another provider if your present supplier is countering the logic of information technology via price gouging.
The audiovisual riches arrive via the Move Media Player plugin for one of three browsers: recent versions of Internet Explorer, the open source Firefox, or Apple's Safari. For maximal performance of the Met Player, I recommend Safari with Windows or Mac. In civilian life, I use Firefox because the hundreds of software plugins written for it make it the Swiss Army Knife of browsers.  But when it's a question of streaming video, I switch to Safari: it's faster.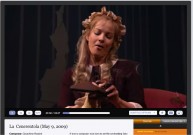 Accessing the Met videos in HD performance requires a relatively new and sprightly computer.  That means Intel Dual Core chip,  minimum speed of 2 Ghz, and running on updated versions of Windows XP, or Vista, or Mac OS X 10.4 or 10.5. Most new desktop or notebook computers sold these days, even at modest prices, fit the bill.
Second, the computer needs a graphics processor  that uses at least 128 Mb of memory.  Preferably this should be a "discrete" stand-alone graphics card with its own memory chip, not a graphics chip on the mother board. In Windows this means desktops starting around $800 and laptops around $1200.  For Macs, you're talking about an iMac or Macbook Pro, starting about $600 higher than minimal  Windows configurations, but worth the money if audiovisual performance is the name of the game.
I tested the Met Player in HD mode using a Macbook Pro, with sound fed through HeadRoom's modestly priced Total Bithead combination DAC  (digital-to-analog converter ) and headphone amplifier ($CA 175).   I listened via Grado SR125 headphones, an audiophile bargain running less than $CA 200.
The HD video flowed with barely the odd, brief splutter --- and that's at the end of a rural DSL line that's more than four miles away from the relay station.
Net result? I had to tear myself away to write the piece! Sign me up!