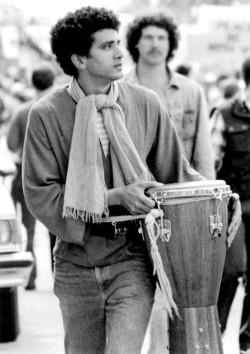 THERE ARE MUSICIANS AND COMPOSERS AMONG US who do not find their artistic legs in concert halls, churches or clubs. A brave few find a livelihood providing music for choreographers, exploring together the ancient marriage of dance and music. Ahmed Hassan, who died in Toronto on January 19 aged 55 did just that, moreover developing his passion into a successful career.
Born in New York City to Egyptian parents, Hassan's family moved to Cairo, then settling in Halifax in 1969. While a student of biochemistry at Dalhousie University, his life's path took a decisive turn toward music after encountering the charismatic drummer Ricardo Abreut of the Toronto Dance Theatre, another self-taught dance musician.
Starting in the late 1970s Hassan began playing for dance classes and collaborating with a long list of leading Canadian modern dance choreographers. Hassan moved to Toronto in the early 1980s to work with the Desrosiers Dance Theatre. With fellow composer John Lang, Hassan co-composed the music for Desrosiers' acclaimed Blue Snake (1984/5) for The National Ballet of Canada. The National Film Board documentary film Inner Rhythm (1986) records the composers' creative process. Hassan also played a role in the city's emerging world music scene. For a time his home was the base for Arabic music classes where musicians such as his sister Maryem (Hassan Tollar), Debashis Sinha, Ernie Tollar, and other members of the future group Maza Meze congregated.
Sable/Sand (1995) for which Hassan composed the music won a Dora Mavor Moore Award for choreography for Serge Bennathan, Dancemakers' Artistic Director. The moving film Sanctum (1996), the score by Hassan, explores the work of his life partner and colleague the renowned dancer-choreographer Peggy Baker. Hassan's last creative project Fourteen Remembered, a requiem to commemorate the lives of the murdered women of Montréal's École Polytechnique, was performed annually from 1998 to 2001 at various Toronto venues including Massey Hall.
Hassan had suffered from progressive MS since 1987; nevertheless he courageously continued to perform into the mid-1990s with Peggy Baker.