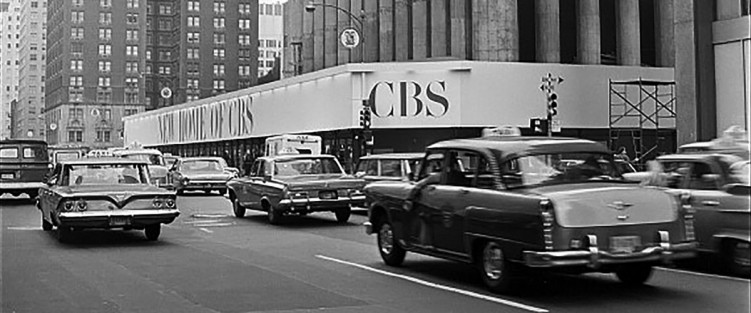 So here we are a year later, and we're still waiting for our lives back. But for me, all of a sudden, the pandemic hasn't all been bad – because I've fallen in love again. In musical love, that is.
For most musicians or repertoire that have penetrated my heart the actual circumstances in which I first heard them are lost to my memory. They've just been there as long as I can remember. But not for all. My most vivid repertoire love affair came when I was about 14, maybe, visiting New York, and walking with my parents by the construction site of what would become the Columbia Broadcasting System's headquarters, the famous Black Rock building on 52nd Street in midtown Manhattan.
To make things more interesting for passersby, CBS had installed little listening posts with headphones so you could sample CBS recordings as you walked by the site. And one of them contained the explosive Finale of Stravinsky's Firebird Suite, in a Bernstein/NY Philharmonic performance – a piece I had never heard before. In fact I'm pretty sure I'd never heard a note of Stravinsky before. There I stood, on 52nd Street, utterly and completely transfixed, playing the excerpt over and over again, many, many times, to either the delight or horror or amusement of my parents. (I think I returned to the site to listen again the next day.) I still have the Bernstein album I bought immediately on my return home.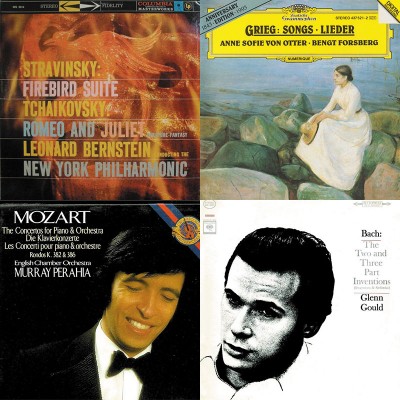 Is there anything more wonderful in music than discovering a performer who absolutely thrills you, who opens up the world to you in a way you never thought possible, who strikes you at a level you can't really explain or understand, but who you know instantly will be a lifelong companion, a never-ending part of your life? I'm guessing we've all had these experiences; they are really the essence of our enjoyment of music. Music is highly erotic, let's face it. It is a form of all-encompassing eros, really quite pagan in its dimensions, that allows us to open our hearts to an extraordinary degree in the safe privacy of our own emotional imaginations. That sensuousness, and the pleasure it gives us, is certainly one of the great achievements of music, one of its great mysteries.
Also mysterious, as with all love affairs, is exactly who and what creates this immense feeling of satisfaction within us. Who wants to analyze it? We just want to enjoy it. Also part of the pleasure of the experience is its unexpectedness, the way it bursts upon you when you are least anticipating it.
So it was for me about a month ago when I got a yen, which I do every so often, don't ask me why, to listen to Frank Foster's Shiny Stockings a tune which Foster, a saxophonist with the Count Basie band, wrote as an instrumental for the band in the 50s, and to which lyrics were eventually added (by Ella Fitzgerald). I googled Shiny Stockings and noticed that one of the video results that popped up was a thumbnail of what seemed to be a young kid with a microphone. I clicked on it. My life hasn't been the same since.
What I clicked on was a bit weird – a bunch of teenage musicians, really, arrayed as a big band but in what looked like someone's living room. But, from the moment I heard the solo piano vamping the opening figure, along with a great rhythm guitar, I was intrigued. After all, there was Scott Hamilton, the great American sax player, in the background, so this couldn't be too amateur an outfit. And then, the girl who I had seen on the YouTube thumbnail started singing – and I was lost. I've listened to this video, honestly, probably 150 times since that day. I'm listening to it as I write this, and there are tears in my eyes.
I'm in musical love again – with Alba Armengou.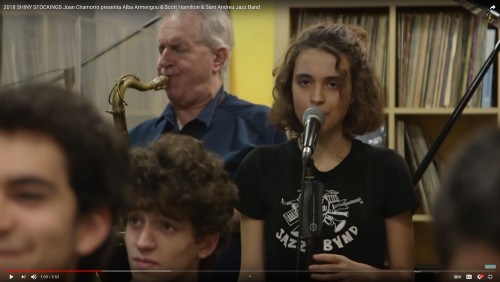 Armengou, I have since learned, is a Spanish musician, now just 20 – she was only 17 or 18 when she recorded that video. She is, it turns out, a great trumpet player as well, part of an astonishing jazz educational program, sort of an El Sistema for jazz, run for the past 13 years in Barcelona by an extraordinary musician, Joan Chamorro. (He's leading the band in Shiny Stockings, sometimes you see him on bass, occasionally on sax.) Armengou started playing with the band – there are videos of her – at seven or eight. None of the musicians in the group is over 20. But as amazing as the Sant Andreu Jazz Band is, it was the voice and demeanour and being of Alba Armengou that struck me to the core.
She may not be to everyone's taste. Her voice is completely vibrato-less, and she sings English with a slight accent (which I find charming), mainly because, as far as I can tell, she doesn't speak English. But her sense of pitch is the most extraordinary I've ever heard, her lower register is intensely beautiful, her phrasing impeccable (maybe because she's a player, not just a singer); she just combines everything I find attractive in a musician.
Listening to her just pierces me – it's a very physical sensation, this total release into a performer, leaves me a bit short of breath, puts a permanent smile on my heart. And thanks to YouTube and Instagram I've been listening to a lot of Alba Armengou for the past month, with a greater and greater sense of appreciation and affection. She sings Bossa Nova with impeccable taste and restraint as on Jobim's Triste, can really let loose with a big band, with Nobody Else But Me and has created the most beautiful performance I've ever heard of anything with Billy Strayhorn's immensely difficult A Flower Is a Lovesome Thing, ethereal and haunting and soul-elevating. The only comparable performance is that of Ella Fitzgerald, but Ella was a mature performer when she recorded the tune. Armengou was 18. Eighteen! Imagine Ella singing her version of A Flower in her A-Tisket, A-Tasket years. That's how amazing Armengou is.
OK, I know I'm going overboard, because there's also a pleasure in confessing your loves, but as I think of my reaction to Armengou's musicality, it reminds me of how I've been shaped over a lifetime by the other performers and pieces of repertoire to which I've reacted similarly. I can vividly remember the first time I heard Anne Sofie von Otter singing Grieg songs on her first CD – I can still feel the shock of pleasure at that perfection. I had the same feeling when I heard the Murray Perahia/English Chamber Orchestra Mozart piano concertos back in the 80s. And then there's Gould.
I actually came to Gould late, in my 30s, not sure why, and the first album of his that turned my world around was, crazily, his version of the Two-and Three-Part Inventions of Bach, on that crazy wonky piano on which he recorded them. Why them? Who knows? Maybe because I had played some of them as a student. But even with these ultra-simple pieces, the basic piercing intelligence and spirit of Gould was apparent – he changed what I thought music could do (as he did for many). That illumination he provided has been part of me, honestly, ever since. And, as I started out saying, for me, often the pleasure of discovery has not been of performers, but of repertoire.
But that's how it is, isn't it. We all listen to a lot of music, enjoy a great deal of it – but sometimes, something special happens, something out of the ordinary, which reminds us, oddly, in its uniqueness, of what music actually is. It's as though these extraordinary moments, even if they are infrequent, are the truest evidence of what is happening in music all the time – its constant potential for these illuminating epiphanies of bliss. So even in these darkened, cloudy days, when the prospect of life as it was seems to constantly recede just out of reach, it's important to be reminded what lies underneath. Music, and our reactions to it, is one of the best reminders of that enduring power in the world. As I discovered with one click of a computer mouse on one YouTube video just a few weeks ago. And for which I will be thankful forever.
Robert Harris is a writer and broadcaster on music in all its forms. He is the former classical music critic of The Globe and Mail and the author of the Stratford Lectures and Song of a Nation: The Untold Story of O Canada.