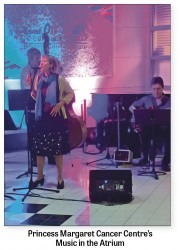 There's a surprisingly active world of live music performance in Toronto – and it takes place in the city's health-care centres. These concerts employ musicians, giving them the satisfaction of giving back to the community, and in turn their audiences, collectively numbering in the thousands, receive the many rich benefits that music can bestow on us all. Yet these musical events fly under the usual media promotional radar, hidden from public earshot and evaluation – and in many cases that's just the way institutional representatives like it.
Often institutionally filed under "therapeutic recreation services," music performed in the health or long-term care context can provide a wide variety of benefits to patients and their families, as well as to their caregivers. Career music therapists talk about "modalities:" the ways in which music helps their clients, serving as a form of lifelong learning, creative expression, or accompaniment to expressive movement and physical fitness. Research has demonstrated that meaningful interactions with music can also facilitate brain fitness and plasticity, memory, meditation and coping strategies including stress and pain management.
Anecdotally, musicians among us know the psycho-physical act of making music can provide useful sensory stimulation. Music can not only put us in our "happy place," but also into our spiritual place. Those who make music in a band, ensemble, orchestra or choir can vouch for the perks of doing so – not least the powerful social connection that comes from engaging with like-minded peers in deeply meaningful sonic and emotional collaboration.
Baycrest Health Sciences: Music therapy helps at end of life. North Toronto's Baycrest Health Sciences, which brands itself as "a global leader in geriatric residential living, health-care, research, innovation and education, with a special focus on brain health and aging," continues to foster research investigating this subject. Its senior music therapist/practice advisor Dr. Amy Clements-Cortes, for example, conducted a 2011 study that looked at the role of music in palliative care. Participants engaged in a variety of interventions including writing songs, recording music to leave as a legacy gift for families, improvising to music, singing and compiling musical autobiographies. Several motifs emerged, including that music therapy provides a safe place to express feelings, enhances communication and acts as a vehicle for reminiscence and revisiting memories."
Princess Margaret Cancer Centre: Financially supported by the Tauba and Solomon Spiro Family Foundation, Princess Margaret Cancer Centre's Music in the Atrium provides weekly concerts to patients, families and staff through the months of September to May in downtown Toronto. They are held on Wednesdays at noon in the centre's Main Floor Atrium. SarahRose Black, an accredited music therapist and registered psychotherapist, and Andrew Ascenzo, a Toronto-based professional cellist, program the concerts in collaboration with the Princess Margaret Cancer Foundation. Founded nearly 21 years ago, the series is run by the hospital's Department of Supportive Care. Performers take to the Atrium each week, offering a wide variety of styles and genres, including classical, Broadway, folk, world fusion, opera, funk and soul music. "The performers are generally professional Toronto-based musicians," says Black. "However, the program often features highly trained musicians who have built careers in other areas but perform around the city."
During the warm summer months, the weekly concert series turns jazzy. Moving up to the Max Tanenbaum Roof Garden on the 16th floor, patients, families and staff gather on Fridays at noon for Jazz for the Soul, featuring professional jazz musicians of multiple stylistic affiliations from around the GTA and beyond.
During its two decades of music programming, the hospital has hosted some of Toronto's top musicians. They include jazz pianists Hilario Durán and Bernie Senensky, bassist Artie Roth, guitarist Joel Schwartz, and singers Jackie Richardson and Michael Burgess, as well as Justin Gray's Indo-jazz ensemble Synthesis and students of the Glenn Gould School at the Royal Conservatory of Music. Looking forward, on December 7 cantor Tibor Kovari celebrates Hanukkah, while on December 14 Princess Margaret's own Dr. David Loach, a medical oncologist who also sings and plays keyboards, headlines a holiday concert alongside program directors Black and Ascenzo.
Much of this music-making wouldn't be out of place at Koerner Hall or the Jazz Bistro, but has for the most part flown under the mainstream media radar. Yet this is a space where many musicians pursue their careers, while staff, patients and families gain the many benefits from their musicking.
Kensington Hospice: SarahRose Black also works as a music therapist at Toronto's centrally located Kensington Hospice. Here, some of the current research on music's power to comfort and aid people at end of life, as well as their loved ones, is put into practice. One of Black's duties is to manage the hospice's volunteer musician program, which hosts frequent live performances. In the recent past, concerts in this program have been held in conjunction with our next organization, the Health Arts Society of Ontario (HASO).
Health Arts Society of Ontario: Established in 2011, HASO's mandate is to bring the work of professional musicians to audiences sequestered in long-term care in Ontario (and through its other provincial partners, to all ten provinces). According to their website, "the largest audiences in health-care for arts programs are found in residences for elders." The website also points out that many of these people would otherwise be unable to access live music or theatre arts for the rest of their lives, and that most public health authorities do not have mandated standards or budgets for providing quality of life programs for people living in chronic-care residences. This is where HASO wants to see this situation change and its concert program is an agent of that change.
HASO hopes "to rapidly develop…along the lines [already] established by Health Arts Society (BC) and Société pour les arts en milieux de santé (Québec)." Its growth indeed appears to have been exponential. HASO already presents 200 concerts per year under the banner of Concerts in Care and, to date, over 10,000 concerts have been delivered to audiences in care in Canada by the Health Arts Societies, reaching a national audience of over 400,000.
Those are impressive audience numbers by most metrics. And in terms of the quality of music on offer, on January 29, 2016, HASO appointed Jeanne Lamon, the former music director of the Tafelmusik Baroque Orchestra, as the society's new artistic director. Her role includes guiding HASO's Concerts in Care program of professional music concerts. The announcement was accompanied by a concert presented by Lamon (violin) along with colleagues Cristina Zacharias (violin), Christina Mahler (cello) and Lucas Harris (lute) at the Castleview Wychwood Towers long-term care home in Toronto.
Michael Garron Hospital: Carol Kirsh, the volunteer concert music programmer at Michael Garron Hospital (formerly Toronto East General), is holding an ethnic musical mirror up to the multiple communities East General serves – and which serve it. In our recent telephone conversation and email exchange, Kirsh – who is herself an amateur musician – told me that she is attempting to stretch the cultural envelopes of the music and musicians she presents, to better reflect the cultural backgrounds of the hospital's patients, health-care workers and surrounding east-Toronto community.
"The catchment area of our hospital is the most diverse in Toronto," Kirsh told me. "I am working with musicians to put on free noon-hour concerts – about four per year – featuring the music of [our diverse] heritages. I want to reflect the soul of the community. [While the concerts are free,] we nevertheless recognize the importance of paying fees to professional musicians."
The first concert in the series was held November 15, featuring Toronto's stylishly virtuoso Payadora Tango Ensemble. It performed repertoire drawn from the core Buenos Aires tango tradition, as well as signature compositions by Astor Piazzolla. "A Venezuelan hospital volunteer opened the concert with South American music," said Kirsh. The series continues on January 17, 2017 with Toronto-based Demetri Petsalakis curating a concert of Greek music, reflecting the musical identity of the nearby Greektown on the Danforth. Petsalakis and his group will perform in a wide variety of styles, with an instrumental accent on his masterful Greek and Middle Eastern lute playing.
What about the future of music programming at Michael Garron Hospital? Kirsh intends to extend the musical mix further, "to reflect the huge Filipino community at our hospital, particularly our health-care workers." She looks forward to the late spring, when she plans to hold a concert in an appropriate outdoor space on hospital grounds, with music provided by members of Toronto's vibrant Filipino community.
As each of these five examples show, the power of music to build social and emotional connections is already being put into practice in Toronto's health-care spaces – and is finding resonance with the communities involved.
Andrew Timar is a Toronto musician and music writer. He can be contacted at worldmusic@thewholenote.com.