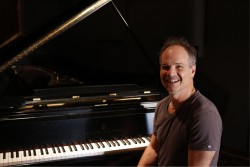 Most instrumentalists such as horn players, guitarists, bassists and drummers, have the advantage of being able to play their own instrument while performing live or recording in a studio. Pianists however, have a disadvantage in this area. They have to rely on the piano provided by the venue or the studio. Because of this limitation, it is very important to seek out the best piano when I am ready to produce a CD. Having recorded nine CDs with my trio, Steve Koven Trio, I know that Inception Sound Studio in Toronto has one of the finest pianos in the country.
This piano transmits beautiful tones and has amazing responsiveness in its action. It also has a unique history. This specific piano was the first piano used at the legendary Imperial Room at Toronto's Royal York Hotel. It is a 1929 New York Steinway D model and has been played by many of the great pianists that performed in Toronto from 1929 to the present day, Count Basie, Duke Ellington, Little Richard, Allan Singleton-Wood, John Arpin, Doug Riley and Don Thompson, to name a few who have played and recorded on this magnificent instrument.
I recorded my last six CDs with my trio at Inception Sound on this very piano. So it seemed fitting to me, for my first solo piano recording, to revisit the instrument that has been my first choice for more than a decade. I returned to Inception Sound to record the CD, and Solo Retrospective was born. The concept behind the CD was to revisit previous compositions that reflect back 32 years.
I chose a collection of original songs that represent both meaningful and significant times in my life. For example, the final track, Lifetime, was composed when I was just 18 – a song about first love. The opening track, Mist-ic, is a new composition which was inspired by a visit to Grand Manan Island in New Brunswick. While there, I spent an evening at a magical, "mist-ical," fog-covered, remote beach at dusk. There was my song. The inspiration for another track, Artists, came to me while working on my Masters Degree at York University, surrrounded by boundless, youthful creativity; there was another song. 5 O'Clock Omelette is a new composition which pays homage to a musical exercise I learned in my undergrad program while studying Contemporary Improvisation at York in the 1980s.
There are 12 original tracks on Solo Retrospective, of which three are new releases. You can find out more on my website,
stevekoven.com.
There will be a CD launch concert for Solo Retrospective at Musideum, 401 Richmond St. W., October 19 at 8pm.