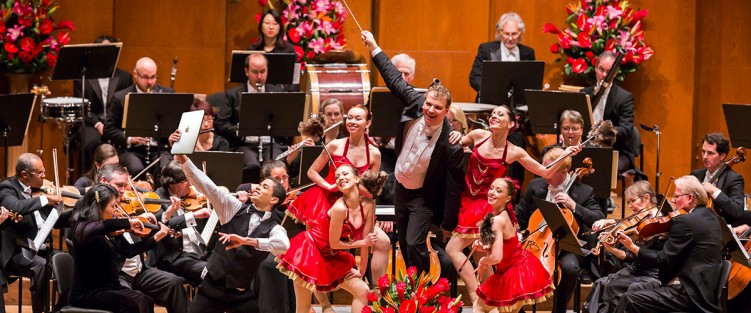 January 1, 2023 will mark the return of what has become a favourite New Year's tradition in Toronto and cities across North America – Attila Glatz Productions' "Salute to Vienna" modelled on the wildly popular "Neujahrstagkonzert" (New Year's Day Concert) given by the Vienna Philharmonic. The Vienna Philharmonic concert is broadcast throughout the world – operetta excerpts as well as the waltzes and polkas of the Johann Strauss family as the apotheosis of Viennese culture, speaking to a particular pre-World War I innocence, sentimentality and nostalgia that resonate particularly powerfully in troubled times.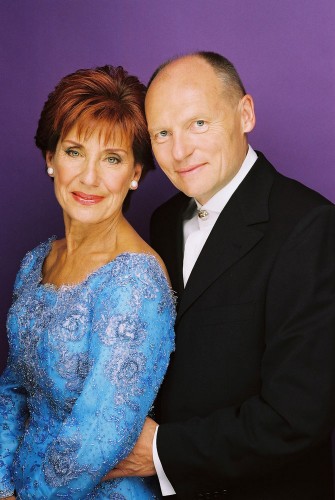 Marion and Attila Glatz both grew up listening to these New Year's Day concerts (on the radio, as tickets are impossible to get – Marion in Austria, Attila in Hungary) and together decided to create something similar in their new home of Canada. Beginning with a single concert in 1995, given at the George Weston Recital Hall to an audience of 1,000, it moved the following year to Roy Thomson Hall and then expanded to Vancouver, New York, West Palm Beach and Sarasota as well. By the millennium, it was being presented in 33 cities to 70,000 people.
I became associated with this venture early on, first as the orchestra librarian for the Toronto concert, then as the librarian for all the concerts, then even as second clarinettist in the Toronto orchestra. Currently I do all of that, plus communicating with the conductors, singers and dancers to develop the actual individual programs. What was Marion and Attila's New Year's tradition has become my tradition – but lasting each year from mid-September through late January. As you can imagine, the years have brought a lot of crazy and wonderful experiences. Here are a few of my favourites.
Pride in the pages
As an orchestra librarian, I take pride in preparing printed pages from which musicians can read in such a way that allows rehearsals to proceed as smoothly as possible. Just imagine the time wasted if the conductor has to tell their 54 orchestra members where to start or which repeats to take or not. And the chaos that can ensue if everyone isn't working from the same map. The finest musicians playing excellent instruments will sound amiss if they're not all in the same place in the music. All of these artist preferences must be confirmed in advance, and scores and parts marked accordingly before being sent to conductors and orchestras.
Technology has greatly enhanced the ease and accuracy with which I can accomplish this. Sending scans of vocal scores to singers and mp3 recordings to choreographers sure beats the "bad old days" of sending faxes and mailing CDs. But even so, there are countless ways for things to go wrong.
For one thing, every one of the pieces on our program is known by at least two, sometimes three different titles. Think Die Fledermaus or The Bat; An der schönen blauen Danau Walzer or Blue Danube Waltzes. Confusing as that can be, it gets worse when a conductor or singer refers to a song by the lyrics of the chorus instead of the verse: like "Mein lieber Schatz" or "Sag ja." Vocal pieces sometimes exist in different keys; singers may have different preferences for starts, stops and sometimes, cuts. Waltzes and polkas are dance music and as such feature repeated sections to create symmetry in the dance movements. Numerous symbols are used to indicate these repetitions and save space on the page. Taken together, these pencilled-in symbols on a part constitute the "repeat scheme" or "road map" through a piece of music, but as with ordinary maps, they get used by most artists to devise their own route – to achieve their personal interpretation.
One piece in particular takes the prize for defying consistency. Frühlingstimmen or Voices of Spring exists in two different versions – one for soprano and orchestra and one for orchestra only (which is sometimes used for dancing). I've been able to wrangle dancers into agreeing to a single common repeat scheme, but the sopranos are another matter. Of the 15 or so sopranos who have performed this work with us, no two have done it the same. I have about seven sets of parts with various markings which I continue to modify.
Eraser shavings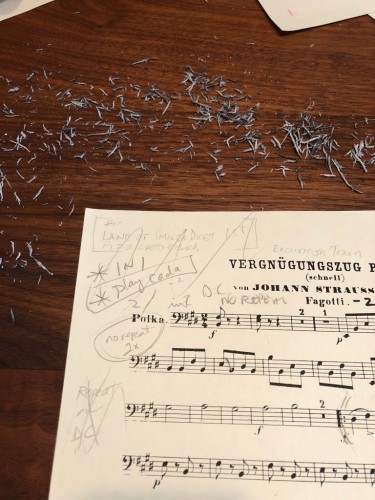 I can always tell if something went wrong or wasn't clear, by the markings made by players in their parts. "XXXXX" or "YES!" or "NO!!" or long lines drawn from one place in the music to another are testimony to a player's attempts to keep their place on the page, but these markings are seldom helpful to the next player. Each year our kitchen table gets taken over by eraser shavings as I spend quite a bit of time cleaning up and re-marking. I've taken to marking these structural indications in blue pencil (the erasable kind – just in case), which stands out better and distinguishes my markings from a player's. So, experience has taught me ways to bring most aspects of music preparation under my control, but all that work will be for nothing if the printed music fails to reach its proper destination intact and on time – and that remains beyond my control.
Many a slip
Most of our conductors live in Europe and over half of the orchestras are in the US. It is key, when shipping across an international border, to declare the contents in a way that is clear to customs authorities. Should they question the contents or value of a package, they set it aside and may open it for confirmation – any of which will delay arrival. Declaring "Salute to Vienna" in the contents field does not work well; "Used Printed Sheet Music" usually does the trick. I have learned, to my cost, that the fine print contained in every courier company's shipping agreements allows a one-day "delay due to customs" that supersedes the guaranteed date of delivery.
On shipping day, my kitchen is beset with up to 40 boxes destined for different parts of the world. Yes, I once got my address labels confused and sent a box intended for Miami to Sarasota. Fortunately I figured this out before also sending the Sarasota box to Miami and the contractor in Sarasota (now my BFF forever) was able to send the Miami box on to Miami – causing only a couple of days' delay.
When more is less
1998 (for the New Year of 1999) was the first year that I prepared the music for all the orchestras. A lot of this music was new to me, but Attila had introduced me to the librarian of the Vienna Volksoper, a Mr. Kogler, who was enormously helpful. Still I had a lot of copies to make – 16 for each of our perennial encores, Blue Danube, Auld Lang Syne and Radetzky March for starters. Coincidentally I happened to be shopping for a new copy machine at the time and three competing companies were eager to foist trial machines on me. "Bring them on!" Very fortuitous, as it turned out. Except that when I ran all three at once, I blew the circuit breaker!
Sopranos – sick and surprising
In 2008 we'd finished our rehearsals in Toronto and even had a day off before the concert, but all this under a cloud of apprehension. Our soprano was sick. She had sat in the hall for a rehearsal and was hoping to perform. We all had our fingers crossed, but on the morning of our day off, Attila, about to board a plane in Chicago, called me to say she couldn't perform and could I help organize for another soprano. Good news: we found someone. Not so good news: she would require two different arias and one new duet. I gathered the new soprano, tenor and conductor with the new music for a rehearsal that went well, the orchestra would be seeing the new music for the first time in the concert. The conductor gave me a list of special markings to place in the parts – most of which I had. Some, however (the two new duets) were still in the hands of the players. I placed a sign at the RTH artist entrance asking players to bring me their parts to mark and worked like crazy until about ten minutes before the start of the concert. After which I had to change into my concert dress, put together my clarinets and get on stage.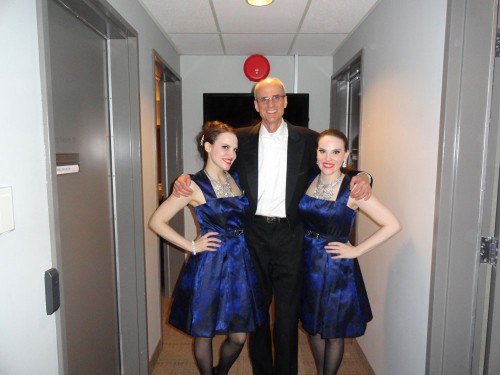 The soprano surprise came in 2014, when American soprano Rebecca Nelsen was due to come to Toronto. Our correspondence was going really well, but she had suggested a first aria with "a big trumpet cadenza," which I did not see anywhere in the music I had. So I arranged a phone call with her – a call I'll never forget. She explained that she would play the trumpet cadenza. Colourful content for these concerts is gold, so I readily agreed. Next we had to talk about her second aria, which seemed much more conventional – that is until she said, "... and I could do it with my twin sister, Michelle, if you want …" (Are you kidding?!) We'd love for Michelle to join us!
In the concert, Rebecca made her first half appearance in a beautiful, flowing white gown, smiling demurely to the applause. Then, with a loud chord from the orchestra, she whipped the trumpet out from behind her gown and played the cadenza - to sensational effect! Her second half aria, with a de rigueur costume change, was Schwipslied or Drinking Song from A Night in Venice, by Johann Strauss II. Rebecca sang the first verse acting a bit tipsy, and flirting with the conductor. Then, as the orchestra began an interlude, she alluringly exited stage right (as if to slip into something more comfortable). The conductor, somewhat of a ham himself, started to follow her offstage when, from the opposite side of the stage, Michelle suddenly appeared, in identical costume, to sing the second verse. The unsuspecting audience went wild.
How I met my wife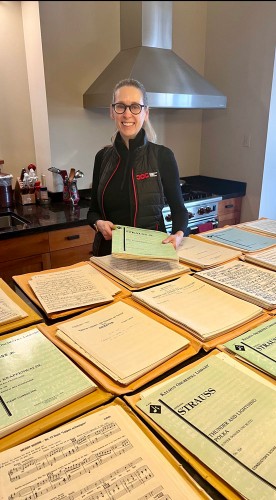 The same year, in 2014, Marion and Attila hired the Canadian Opera Company chorus to join the usual four soloists and orchestra for "Bravissimo!" their New Year's Eve opera gala. While warming up onstage for the orchestra rehearsal someone came to me to resolve a mixup with the space for the chorus rehearsal. I went to help, and while doing so, asked the singer who had approached me on stage to point out a colleague of hers, Ingrid Martin, whom I had never met, but with whom I shared a close friend. She replied that – actually – she was Ingrid Martin.
The chorus made such an impression that Attila and I immediately planned to have them back the following year – and I figured that Ingrid might be a good person to talk to about how to work out a few details. We agreed to meet for coffee – all business.... then dinner. We were married two years later. In the years since, "Salute to Vienna" has become a part of Ingrid's life as well – perhaps more than she bargained for. String bowings, eraser bits covering the table, a substantial music collection in the basement, and boxes all over the dining room as I write this. It wouldn't be nearly as much fun without her.
Covid, Copies, and Cancellations
The pandemic of 2020 forced the cancellation of all "Salute to Vienna" concerts. We resumed in 2021, but with restrictions in some cities. One of these was that all players on stage were required to be distanced – so string players could no longer share a stand of music.
I had to make twice as many string parts. And all that extra work was for nothing in two cities where the concerts were cancelled after all. Boring this job is not!
The "Salute to Vienna" New Year's Concert returns to Roy Thomson Hall on January 1 in Toronto, and FirstOntario Concert Hall on January 2 in Hamilton. Click Here For Tickets.
Gary Corrin, second clarinet will be there.
After 30 years as the Toronto Sympony's Principal Librarian, Gary Corrin retired in January 2022. He now enjoys beginning each day with a "To Do" list that he might actually complete.