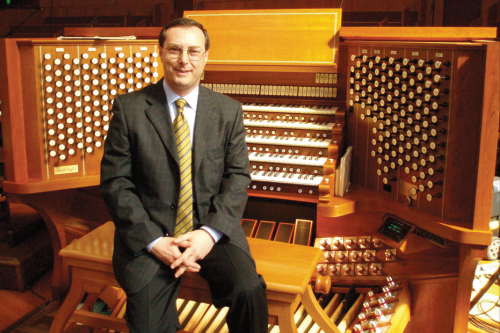 November 12, 2014 commemorates the one-year anniversary of Massimo Nosetti's sudden death. He was diagnosed only one month earlier with pancreatic cancer so when the news came, shock was felt around the world. Massimo was very much in demand and performed frequent solo and orchestral concerts in many of the world's important performance venues. He was a wonderful friend, a great organist, composer and educator. In dealing with the shock and grief of this news, there was a common theme running through all the comments that were shared among friends. Massimo was soft-spoken, courteous and unassuming. For someone with such amazing musicianship, there was never a hint of arrogance coming from him. Rather, he was humble, elegant and always understated. He was a shining example of how we should all conduct ourselves, knowing that life has a way of creating circumstances that could change everything. He was confident without being obnoxious or pretentious. To his friends and acquaintances alike, he was always supportive and gracious.
For me personally, Massimo was generous with his time, his music, and his support of Organix. He was world class and at this level, he could name his price and get it. Yet for me, he always said "Don't worry about it." He considered me one of his friends and treated me with much love and respect. He knew the challenges facing an independent producer of organ concerts in the "new world" but encouraged me to continue. He said that it was a jewel among music festivals, and "Organix is a fantastic music box where you find a huge amount of the most beautiful and varied music for the organ." He went on to say, "It's a perfect organization with the possibility for the performer to present music not very often heard." With such an endorsement, his last performance in Toronto was a magnificent concert of Rheinberger and Bossi works for organ and orchestra. This concert can be heard on the Organix website. Organix 12 presented Massimo with a 33-piece orchestra under the direction of Philip Sarabura. There was also solo trumpet and trumpet and organ with Michael Barth. All in all, that very special evening was a sparkling event, and while I had communicated with him often since then, it was the last time I saw him. What a great memory to hold!
On November 12, 2014, Organix will commemorate this anniversary with a very special gala concert featuring three organists and a choir. Maxine Thévenot from Albuquerque and Eugenio Fagiani and Omar Caputi, both from Italy, will perform organ segments while the Toronto Ecumenical Chorale under my direction will perform choral music, including a premiere of a piece that I wrote and dedicated to the memory of my friend.
For program details, please visit the website at organixconcerts.ca.
Gordon Mansell is the president, artistic director and organist of Organix Concerts Inc.