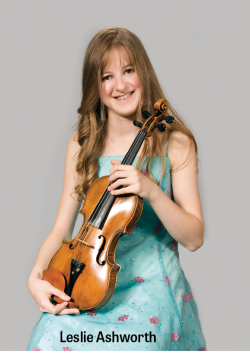 The last few years have been very exciting and busy for me in the world of music. Since first connecting with WholeNote magazine in January 2011, I can't begin to tell you about the wonderful people I have met, musicians I have played with, and orchestras that have helped me expand my love of music. I continue to be inspired by the amazing experiences I am grateful to have: from performing on beautiful stages to fundraising for various charities and not-for-profit organizations through music; from composing original pieces of music to producing two CDs and giving a portion of the proceeds to Free The Children; and from participating in international summer music festivals to developing my own music program for rehabilitation patients (which I will tell you about a little later).
I have enjoyed performing in Carnegie Hall as the gold medal winner of the American Association for the Development of the Gifted and Talented – what a gorgeous, historic hall. I also have played in many other beautiful venues such as Koerner Hall in Toronto, Isabel Bader Theatre, Walter Hall at the University of Toronto, Hamilton Place, Mississauga Living Arts Centre, George Weston Recital Hall, Metro Toronto Convention Centre, Rolston Recital Hall in Banff, Conservatoire de musique in Montreal, Vancouver Convention Centre and Convocation Hall at the University of Alberta.
This past summer, I participated in the prestigious Banff Masterclass Program in addition to the Aspen Music Festival and School, where I studied with Paul Kantor. Previous summer programs included the Young Artists Program at the Summer Music Institute of the Ottawa National Arts Centre, the Banff Centre's Strings Masterclass Program and the Summit Music Festival in Pleasantville, New York.
I am currently studying with Barry Shiffman, in my eighth year as a scholarship student in the Phil and Eli Taylor Academy for Performing Artists of the Royal Conservatory of Music in Toronto. I am also studying the viola in the Academy with Eric Nowlin and the piano (Licentiate Level of the RCM) with Dianne Werner. I am always greatly inspired by my incredible teachers and I adore being in the Academy – making music with fellow colleagues, playing for world-renowned artists (such as Donald Weilerstein, Victor Danchenko, Paul Kantor, Sylvia Rosenberg, Leon Fleisher, Brian Lewis, James Ehnes, Soovin Kim and James Boyd), and developing the musical foundation knowledge with ear training, theory and music history. It really is such a nurturing environment!
Suite Melody Care
There is research which demonstrates the therapeutic value of music. Music and medicine go hand in hand as music creates magical moments that can calm, excite, and bring joy to those listening. Music can reach deeply inside people. It brings people together from all ages and backgrounds, activates emotions, relieves symptoms, and overall gives patients something to focus on other than their health challenges.
For more than two years I have enjoyed giving very successful themed performances for patients on the rehabilitation floor at the Oakville Trafalgar Memorial Hospital. When I first began to perform at the hospital, I believed I was going to be playing background music for patients doing crafts. However, as I began to play, the patients became distracted from their crafts, in a good way; they wanted to sit and listen to the music. After a few sessions, word spread about the enjoyable music and patients began fighting for front row seats in the audience! Hearing and seeing firsthand how much the patients enjoyed the performances, I thought it would be wonderful to create a program so that other youth could do the same – the idea for Suite Melody Care was born! In the second semester of my Grade 11 year in high school, I decided to take Grade 11 online Leadership and Grade 12 online Entrepreneurship and further developed my idea – to create a venture plan, website, logo, slogan, and more for Suite Melody Care.

Suite Melody Care's purpose is to inspire youth to give back, to create positive change through music, and to bring joy to those experiencing difficult times during their recovery. As a result, Suite Melody Care will encourage talented, young musicians across the country to give back to their communities by performing in their local hospitals: taking patients on themed, musical journeys and sharing fun trivia with them. In addition, Suite Melody Care will also be available in DVD and CD formats as a product, in the near future.
Positioned as a not-for-profit program for rehabilitation patients, Suite Melody Care's target market will be patients in hospitals, their families, and their friends. People of any age can enjoy this program that brings talented, young musicians to perform for those who are unwell, in rehabilitation, or recovering from major illnesses or surgeries.
My goal is to establish Suite Melody Care in hospitals first in Ontario, and then across Canada – and maybe the world?! I would like musically talented youth to be actively involved in the program. I also hope to make the Suite Melody Care DVD/CD products successful – I will be donating a portion of the proceeds of the Suite Melody Care DVD/CDs to hospitals.
To all of those young aspiring musicians out there, I challenge you to take part in Suite Melody Care. By showcasing your musical talent in the community, we can raise the spirits of patients in hospitals, put smiles on their faces, assist patients in their rehabilitation and bring them musical performances to enjoy!! Contact me for more information on how to participate: ashworthproductions@gmail.com.
A Look Into The Future
With the time having travelled so swiftly since my first time appearing in WholeNote back in January 2011, it is exciting to think of all of the memorable opportunities I have already experienced on my musical journey. Looking into the future, I have some exciting plans – I am already planning my third CD (which will include some special and different things, including some of my own original compositions!), linking up with another charitable organization in addition to my work with Free The Children and some more fun surprises to come!
The WholeNote first crossed paths with Leslie Ashworth as one of the 2011 Toronto Sinfonietta Concerto Competition winners.