A renewed interest in the history and preservation of silent film has yielded such celebrations as the second annual Toronto Silent Film Festival, taking place in various venues from March 30-April 7. Historically, screenings of silent films have invariably featured live musical accompaniment, a tradition this festival keeps alive.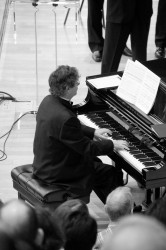 Among the featured musicians this year will be William O'Meara, one of Toronto's preeminent organists, who has to date accompanied over 200 silent films around the world!
What is it about silent film that speaks to O'Meara?
"I studied improvisation just as thoroughly as composed music and was lucky to have a teacher, William Wright at U. of T., whose instruction methods in improvisation class required disciplined application of form, structure and counterpoint to improvisations. I'll never forget the thrill of being able to improvise a decent four-part fugue, keeping all the parts, structure, counterpoint and harmonic progressions organized in my head a few bars ahead of my fingers. After that, free-style improvisation was a breeze! The marriage of my improvisation skills and silent films came about through two events: a request from the ROM in the late 1980's to accompany some Eastern European silent films as part of the Precious Legacies exhibit and subsequently, the encouragement of a filmmaker/musician friend who suggested I apply my improvisation skills for silent film accompanying. Not seeing any opportunities though, I produced a few silent film screenings here in Toronto and Calgary, thoroughly enjoyed the experience, received positive feedback, and the rest as they say is history. Silent film accompanying has been a rewarding and fascinating part of my career as a musician for over 20 years."
How does O'Meara prepare for these gigs?
"Preparation is two-fold. The first is ongoing and long-term preparation. Just like a soloist who practises his/her repertoire daily, whether there is a concert engagement in a week or two months, I likewise practise my improvisation skills regularly. Harmonic tricks, chord progressions, melodic patterns – the list is endless and limited only by imagination. The second form of preparation is more immediate: preview the film as many times as possible and work out some musical themes or motifs relating to characters or situations in the film. These motifs will provide the musical structure, giving form to my improvisations and linking them together. The most challenging and rewarding films to accompany are, for lack of a better word, "serious" films by such masters as Lubitsch, Ozu, Dreyer, Lang and others. The universality and timelessness of the subject matter is like a porthole to musical imagination."
O'Meara's advice:
"To be artistic, the accompaniment to a silent film must always play second fiddle to the film. Regardless of its musical style, the improvisation or a composed score should play off of the rhythm, pacing and structure of the film. Otherwise, the music becomes the show, not the film."
The WholeNote ETCeteras cover announcements, lectures, masterclasses, screenings and more! Send items of interest by the15th of the preceding month to etc@thewholenote.com.