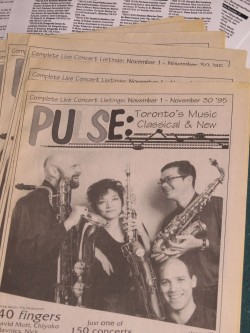 Right: Our remaining eight copies of Vol 1 No 3.
"40 fingers (David Mott, Chiyoko Szlavnics, Nick Gotham and Peter Lutek) at the Music Gallery ... Just one of 150 concerts in our listings this month (of which 38 are free)" the cover proclaimed.
Looking back, no single word we have published has ever evoked as profound and sustained a reaction as the word "Complete" at the top left corner of this cover.
Read on.
Complete Live Concert Listings!? Who knows how long we would have persisted with that impossible claim? But we didn't get the chance to enjoy our blissful ignorance. At our door within days was a list from a then unknown but already loyal reader. "You can't call them complete," he said. "Here are just some of the things you missed." And he handed us a long list in small handwriting, with every entry substantiated with flyers, brochures and clippings from other publications.
Today we routinely list four times as many concerts and musical events every month as we did back then. But our longtime faithful correspondent's monthly summaries of our sins of omission, still painstakingly handwritten, are longer than ever, and the accompanying troves of flyers, brochures and clippings as often as not require several rubber bands.
Faced with the evidence, we beat a hasty retreat from "Complete" to "Comprehensive" in the very next issue! But even the notion of comprehensiveness is more of an ideal than an achievable goal. Performers come and go, ensembles configure and re-configure. Venues arise, thrive, decline, disappear. The definition of a "concert," our geographic catchment area, even the nature of the music we should cover are all in a state of constant flux. Overall, like healthy skin, our marvellous musical scene is constantly sloughing off and renewing itself.
The foursome on our November 1995 cover is an interesting example of this. "40 fingers" is no longer an ongoing ensemble (has not been since 1998), but do some research on any of the four players and you will get a glimpse of how one thing leads to another in this process of growth and renewal.
Chiyoko Szlavnics, for example, has added a strong visual art component to her compositional and instrumental palette, as anyone venturing to the Canadian Music Centre for Nuit Blanche would have noticed. And Nic Gotham's opera Nigredo Hotel, written with Ann-Marie MacDonald in 1992 – you mean there was a music scene before the WholeNote? – can now lay claim, less than two decades later, to being Canada's most often presented opera. (And Gotham now cites David Mott, his erstwhile linemate in 40 fingers as one of his two most influential teachers.)
Not everyone represented in that issue is with us. The Elmer Iseler Singers, Friday November 10 1995, were conducted by Elmer Iseler, for example, in a programme including works by Harry Freedman.
And several of the the listings inspire the question "Gee, I wonder where X is these days?" A good example? Two of the month's 38 free listings (November 2 and 3) were lectures at Walter Hall, by none other than Jon Vickers – on "Singing Schumann's Dichterliebe" and on "Wagner's Operatic Roles," respectively. Is there anyone out there who remembers those lectures?
We weren't above a bit of editorial thundering either, back then. Take this little bit on the subject of the COC's production of Ariadne auf Naxos at the O'Keefe:
In our September issue we wondered aloud how the Canadian Opera Company was going to manage to render the O'Keefe intimate for their production of Richard Strauss's chamber opera ... The answer – visually they did very well by clever use of big costumes, shadow puppet effects, and a combination of compelling stillness and overdrawn buffoonery ... But all the stage magic in the world could not compensate for the big-barn's life sucking acoustics.
It's reassuring to see that clever creative people can come so close to making a silk purse out of a sow's ear. A better way, though, would be to start with a silk sow.
It's interesting how things come around. Free now of its crippling acoustic obligations to the COC or anyone else, the Sony Centre can flex its muscles as a venue with no real parallel, home to spectacles that someone out there is already dreaming of.