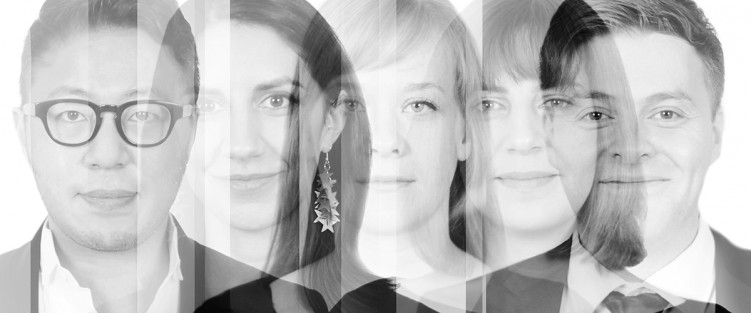 For flutist Terry Lim, the path towards founding a professional chamber ensemble started with the realities of life as an orchestral musician. "The other members and I knew each other from doing the rounds of orchestral auditions, bumping into each other all the time," he says. "And then we all ended up here in Toronto."
Those other members were four other flutists – Kaili Maimets, Laura Chambers, Sarah Yunji Moon and Amelia Lyon – and the group that they formed was a flute quintet called Charm of Finches, that, with a perfect blend of playfulness and professionalism (flutes are often compared to birds, and a group of finches is called a "charm"), has since established itself firmly in the Toronto chamber music scene.
Sitting down with me at The WholeNote office, Lim talked about the first impromptu Finches performance, and how right from the outset, he knew they had found something special. "In 2015, there was a Canadian Flute Association convention here in Toronto, and we wanted to play something together for it, just for fun. We didn't think it would go any further than that. In the first rehearsal, we played an arrangement of Daphnis and Chloe for five flutes and, right away, I thought – oh. This could go somewhere."
And it did, with concerts and festival appearances over the next three years in Toronto and across southern Ontario. Since that first rehearsal they've switched out two members, with Tristan Durie and Katherine Watson replacing Moon and Maimets in the ensemble's current iteration. "They both won full-time jobs with orchestras," Lim explains. For him, it's not necessarily a bad thing, either. "Each year, we've had to find a new person because of everyone's job situations, that sort of thing," he says. "And each year, it sounds different depending on who's playing with us. It just brings in different musical qualities all the time – which for me is fascinating."
The reason for getting together to chat at this particular moment is the Finches' upcoming concert, "Circle of Sound," on June 17 in the Hart House East Common Room in the University of Toronto. True to form, that program promises to bridge the orchestral and chamber worlds, with an arrangement of Mendelssohn's A Midsummer Night's Dream, a premiere of a new flute quintet by local composer Bekah Simms, and a popular classic of the (admittedly limited) bona fide flute quintet repertoire, Derek Charke's Raga Terah. The show will also feature David Heath's flute septet Return to Avalon, where the Finches will be joined by soloists Kelly Zimba and Camille Watts, from the flute section of the Toronto Symphony Orchestra.
I ask if there's much repertoire available for five flutes. He laughs.
"When we started, we started with almost nothing," he says. "But I'm pretty involved in the flute community, so I asked friends. And then there were a whole bunch of arrangers and composers who decided they would arrange things for us without charging anything, which was really helpful in the beginning when we had no money. That's how we started building up our repertoire. And each year we try to commission a new piece. Bekah's piece on June 17 is our second commission."
"Which was the chicken and which was the egg?" I inquire, in connection with Avalon [Heath's flute septet]. "Did you find the piece and say oh good, let's ask Kelly and Camille to play it with us, or did you say it would be great to play with Camille and Kelly, and then start looking for a piece to play?"
"Actually I found this piece last year," he says. "in fact it's originally written for two flutes and piano, which Heath arranged for two flute soloists plus five flutes. I found the piece on YouTube and listened to it and thought, ok, this piece could work. And that was around the same time that Kelly won the principal flute position at the TSO. She lives a couple blocks away from me, so we go out for lunch and stuff like that. So I asked her if she was interested and then I thought, Camille would be perfect. Because this piece actually requires the soloists to play both regular flute and either piccolo or alto flute as well. So Kelly is going to play the part with alto flute and Camille is going to do the one with piccolo. So it worked out perfectly. Even better, they both play Burkart flutes, so Burkart will be sponsoring the event."
For this upcoming concert, as with all their others, programming and the rehearsal process are intense and thoughtful.
"There would be no point if we didn't take it seriously. All of us have really different schedules. So sometimes it's almost impossible to find time. Normally we rehearse every week, once a week. We book it about a month or two in advance. And for me, even doing once a week is not enough. To get all of the details in and everything, I find that it's almost impossible. But all the musicians are great. A lot of experience with solo, contemporary music, orchestra. So it just brings many different ideas all the time. And we do fight. In rehearsal we argue all the time! That's a kind of fun part of chamber music."
Seven flutes sounds like an abundance of riches, I comment.
"People think, oh, seven flutes, that's weird" he replies. "But I grew up in Vancouver where I was used to doing ten-flute contemporary work, every year in different groups out there. And with top-notch players from the Vancouver Symphony, all pro, and a couple professors from UBC, so very, very high level playing. That's what I'm used to seeing, whereas it's not quite as common out here. So five or seven flutes is not that unusual for me."
And large ensemble doesn't necessarily mean less challenging repertoire either: "I think with flute ensemble, people automatically think of lighter music. But we wanted to make sure that people think of us as a serious chamber ensemble. Chamber music is a different kind of playing - much more difficult."
In the final analysis, this is a group that exists in some ways because of the high level of orchestral profiency and involvement of its members, but also as a foil to the particular rigours and constraints of orchestral playing. It's an outlet for all kinds of things - chamber music, commissioning, community projects and, yes, good old-fashioned arguing back and forth on the path to collective creative discovery - that an orchestra-size ensemble typically cannot manage. So it's a story about flutes and flute players - but it's also about more than that: it's about the small ensembles that grow within the musical community of our city, in each fertile nook and cranny.
"We keep trying new things," Lim says. "Finding what works."
Concert note: for the June 17 concert Amelia Lyon will be replaced by Anh Phung, who has worked with the group previously. There will be a masterclass by Kelly Zimba as part of the event prior to the performance.
David Perlman can be reached at publisher@thewholenote.com.