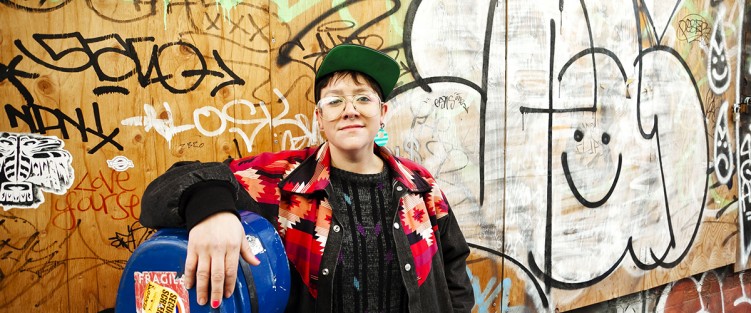 Let's do a little bit of time travelling to set the scene:
On June 14, 2017, Tributaries, the show that opened the Luminato Festival in Toronto, was billed as "paying tribute to the immeasurable power, passion, beauty, and resilience of Indigenous women … in a large-scale celebratory experience." It was divided into four parts, titled Roots, Resurgence, Reclamation, and Emancipation.
On February 19, 2019, at the Banff Centre, ten musicians met in Banff for an event titled Call to Witness: The Future of Indigenous Classical Music. "It was one of the first gatherings of its kind," according to the CBC, "and included musicians from Alberta, the west coast, and northern Ontario. Along with creating music, participants also drafted a statement to the music industry about the importance of including Indigenous musicians in any music project involving Indigenous culture."
On May 8, 2019, Soundstreams mounted a show titled Fauxstalgia at the Drake Underground, on Queen St. W. in Toronto. Lawrence Cherney, Soundstreams' artistic director elaborated: "Fauxstalgia speaks eloquently to our priorities, first of all, because it presents deserving younger Indigenous and queer artists making their debuts on our stage," he said. "Equally important, these artists are passionately engaged in reflecting the past, including 'classical' repertoire, through a 21st century lens."
On Saturday May 18, 2019, the Toronto-based Eybler Quartet held a CD-launch concert at The Burdock Music Hall, tucked away in a trendy brew pub/restaurant on Bloor St. W. The CD in question is the Eyblers' second showcasing their groundbreaking take on Beethoven's Opus 18 String Quartets. Some of the music played on the evening's program was by Beethoven. But the piece that got played twice, once at the beginning and once at the end, was not.
June 12-16, 2019, Kiinalik, a Buddies in Bad Times/Luminato co-production comes to the Berkeley St Theatre. In the Inuktitut language, when a knife is dull, it is said to "have no face," the Luminato website explains. The word Kiinalik, in contrast, means that it does! As we are told, Inuk artist Laakkuluk Williamson Bathory and queer theatre-maker Evalyn Parry met on an Arctic expedition from Iqaluit to Greenland. Kiinalik: These Sharp Tools is their concert, dialogue, and symbolic convergence between North and South, mapping new territory. "How," it asks, "do we reckon with these sharp tools."
Finally, towards sunset on June 23, 2019, at Harbourfront Centre, Lakeside, Maada'ookii Songlines, a free performance with a cast of hundreds including at least eight choirs will ring the proverbial curtain down on the 2019 edition of Luminato. "Maada'ookii is a genderless Ojibway word describing what happens when one distributes or gifts, or shares something with others. And songlines, or dreaming tracks as they are also called, is a term, drawn from Australian aboriginal teachings but present across Indigenous traditions, for songs that help us find the way, both over short but perilous journeys, and over hundreds or even thousands of miles, traversing many languages and cultures along the path.
Look more closely into these six disparate acts of musical gifting and sharing, and you will come across one individual, Cris Derksen, at the heart of each of them.
"My name is Cris Derksen, and I am a half-Cree, half- Mennonite electronic cellist and composer" says Derksen, in the introduction to a five-minute video in the Banff Centre Spotlight series, designed to "explore the stories behind the artists who come to Banff Centre." (Also appearing in the Derksen spotlight video is Eybler Quartet violist Patrick Jordan, but we'll get back to that.)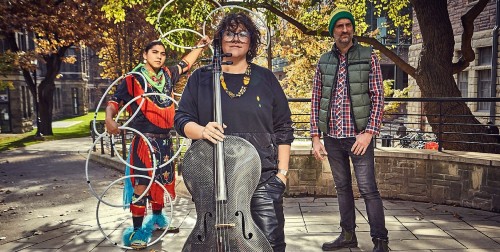 "I go back quite a long way in my association with Luminato," Derksen tells me. "I moved to Toronto five and and a half years ago and started doing stuff in Derek Andrews' world music concerts. And I played in Iftar that year at the Hearn [a 2016 Luminato show welcoming Syrian newcomers to the city]. But 2017, the first year that Josephine Ridge was involved, was when I started to work with them more intentionally." "Did she reach out to you?" I ask. "Yes she saw me in a show I did with A Tribe Called Red and called me in for a meeting. And that year I did an hour as one part of Tributaries where I invited a bunch of my Indigenous female friends to each do a song and I arranged that and got the band together."
One of those singers in Tributaries was Tanya Tagaq; it's a friendship going back in time to Derksen's graduation (with a Bachelor of Music in Cello Performance degree) from University of British Columbia. "I was in Tanya's band from 2007 to 2011," Derksen says. "It was a great way to cut my teeth. I was so fortunate graduating with a gig like Tanya." It was the start of a ride, performing and touring, that has taken Derksen across the globe, as well as coast to coast to coast in Canada, in the company of an extraordinary range of musicians and other collaborators.
The sesquicentennial year, 2017, saw a significant spike in awareness of Indigenous performers and performance practice within the arts community, but, as I expressed it to Derksen, my own fear was that there would be a drop off when the special sesqui funding dried up. "But you're not seeing that, are you?" Derksen responds. "There are too many strong people doing strong interesting work and there's so much work to be done. We're living in such an interesting timeline where we seem to be going backwards instead of forwards as far as racialized issues go, and as far as inequality goes. For me, reconciliation is between people, not working on the big level."
The February 19 Banff gathering arose at least in part from the dynamics of the sesquicentennial year. "Put it this way," Derksen says, "Classical music is pretty good at having an Indigenous idea without the Indigenous performer. So there's some steps to be made." Convening the gathering came directly out of Derksen's Banff residency, bringing together ten Indigenous classically trained musicians, among them composers Andrew Balfour and Ian Cusson, violist Melody McKiver and her mom, pianist-educator Beverly McKiver, and Jeremy Dutcher, with Derksen cheerfully but insistently moving the action along. Perhaps its most enduring outcome will be the joint manifesto created by the attendees and passed around among the attendees to be read out to the audience at the gathering. Its bottom line? Nothing about us without us.
Soundstreams' Fauxstalgia at the Drake Underground saw Derksen on familiar turf, performing a solo set for cello and looper, before laying down the groundwork for an evening-ending improvisation with the evening's other performers, pianist, Darren Creech, performing artist/soprano Teiya Kasahara and contemporary harpist/improviser, Grace Scheele. Cello and electronic looping as core performance practice started for Derksen "probably 18 years ago. My room-mate had a looping station and I borrowed it and then I kept it. It opened up my eyes to being able to create music on my own without hiring a band and it was also my first real foray into composing stuff."
I observe to Derksen that the looper work that night seemed rhythmically effortless, making the technology almost invisible. "It's clear that the thing is your friend," I observe. "Yeah we've been hanging out for a while, so I don't have to think about that as much anymore. I can just focus on the notes. The first loops are nailed down, I know what they will be; the melody is in my head and I can choose how to use it, to expand it, so it's loose but formed. It's all 100 percent in the moment though. I don't have anything saved in the station, so everything is fully live."
Cello, sans looper, is also the heartbeat of the Cris Derksen-composed work, White Man's Cattle, which opened and closed the Eybler Quartet's Burdock Beethoven CD-release concert this past May 19; but Derksen was sitting in the audience, not playing it. The work premiered at Banff, where the Eyblers and Derksen put in the heavy lifting on its creation. It evokes the collision of cultures in Alberta's history, via an interpolated, scratchy soundclip of an early 20th-century Alberta farmer, master of all he surveys, speaking about "his land." It's a layered, driving work, demanding of every ounce of the Eyblers' astonishing bowmanship. "The hoofprints of cattle and bison in the dust are not so different," Derksen says laconically to the audience when asked by Patrick Jordan to say a few words before the piece is repeated.
As for Kiinilik in its upcoming June Berkeley Street Luminato remount, Derksen, who created the music for the piece, with be in the middle of things again. "I get the lovely musical job of underscoring. It's one of the few theatre pieces I actually am happy to be in. Usually if I get a theatre contract I compose the music and pass it on. But this is a really beautiful story, and again truthful. We have taken it many places from its start at Buddies – Montreal, Iqaluit, Vancouver, Luminato. And we go to the Edinburgh International Festival next!"
Maada'ookii Songlines, June 23, was only vaguely in the works when Josephine Ridge left Luminato, but the transition under new Luminato artistic director, Naomi Campbell, has been a smooth one. "It took a moment for us to find each other and talk and sort out what they wanted to do and what I could do with what they wanted to do," Derksen says.
"A bit different than looping so you don't have to hire a band," I remark. "With a cast of hundreds it's definitely a different style," Derksen says. "More notes on the page and throughlines, that kind of stuff. But we do have some interesting soloists and for the solo parts I am giving them a lot of free rein; they get the fun part improvising on top of moments."
Part of the description of the show on the Luminato website talks about "a noisy fury blaring out a cacophony of frustrations and dreams?" So I ask Derksen if it's an angry work. The response is unhesitating: "No its not angry at all ... maada'ookii is an Ojibway word, I'm Cree but I chose to use an Ojibway word because we are on Anishinaabe territory … When Indigenous people meet there's a feast, there's gifting involved, so this word and this work's meaning is she/he shares, gifts. Angry it is not. Truthful it is."
As mentioned earlier, the gift of songlines is the ability to navigate hundreds or even thousands of miles, traversing many languages along the way. The choirs involved seem to epitomize this idea: Canadian Arabic Choir; Darbazi; Vesnivka; Coro San Marco; YIP's Children's Choir; the Bruised Years Choir (part of Workman Arts); Faith Chorale; and an Indigenous Hand Drum Choir.
"Will it get crazy?" I ask. "There's an underscore," Derksen says. "They all have their parts but I expect there will be moments of chaotic!"
"And you? Are you going to be sitting inside or outside it?
"Oh I'm going to cello along." With a laugh.
You can find the entire proceedings of the Feb 19 Banff gathering at https://vimeo.com/317295761.
David Perlman can be reached at publisher@thewholenote.com