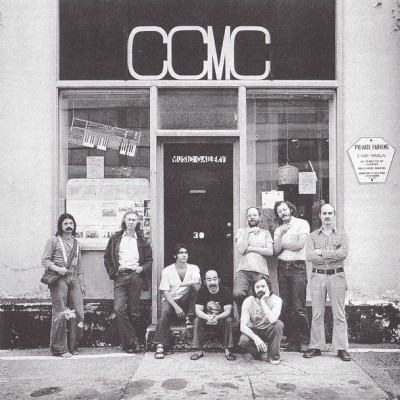 An August 13, 2019 press release from the Music Gallery, Toronto's bastion of new sound presentation was not the usual early season announcement of upcoming concerts. It read in part: "David Dacks, artistic director of the Music Gallery, has announced that 2019/20 will be his last season of programming. Prior to stepping down, David will pass on his knowledge and experience through a new Music Gallery mentorship program, which will see him train and collaborate with two artistic associates during the Music Gallery's 2019/20 season."
My interest was piqued.
For more than four decades, and several different locations, the MG has been many things: home of the pioneering free improv group CCMC; a leading Toronto producer and co-presenter; and a cultural hub, recording studio and rehearsal space/concert hall for numerous musicians and ensembles of many genre affiliations. It has also served as exhibition space for visual and sound art, the home of a record label and radio show, and beginning on a cold 1978 January, Musicworks magazine's original incubator. Against stacked odds, the plucky print magazine and Music Gallery both still serve as homes for "curious ears."
I once opined in The WholeNote that "young Toronto musicians toeing one musical edge or another made the MG the proving ground for their early gigs. Had it been situated in SoHo, NYC, it might have long ago been widely recognized as a key downtown music institution."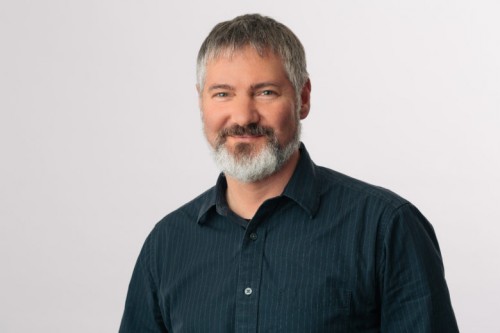 Dacks began programming at the MG in September 2010 and since January 2012 has served as artistic director. Two years into his mandate I interviewed him for The WholeNote (published September 29, 2014). He stated his aims clearly: "I believe in music programming which possesses multiple points of interest, and is not necessarily confrontational, but rather fosters a community-building environment."
Dacks' background as a club DJ, radio broadcaster and journalist gave him an outlook which encouraged, in his words, "synthesis, multiple affiliations and opportunities for fluidity in music. My work in DJ culture is rooted in creating interesting music mixes." X Avant 2014, his fall MG concert series, explored the theme Transculturalism: Moving Beyond Multiculturalism, challenging expectations about culturally defined music, and building on the MG's (and Toronto's) reputation as a seedbed for cultural multiplicity and emerging hybridity. In subsequent years Dacks' imaginative and adventurous programming and collaborations have broadened the scope of the Toronto creative music scene in several directions.
How does he see the MG's role today, its future relevance? And why leave now? I emailed him in the middle of September to find out.
"The Music Gallery remains Toronto's centre for creative music," Dacks replied. "I think the concept of creative music, which, among other characteristics, requires a space which encourages community for people to experiment musically, remains vital to a healthy city and society. Never before have so many hybrid identities and stories been a part of Toronto's ever-expanding musical narrative. The MG provides a space for people to unpack themselves and generate new ideas that would be difficult or impossible to present in a bar-type setting.
"There are many institutions which offer residencies or project development, but very few are dedicated to music. Additionally, we present all season long in a home venue which creates a more continuous sense of community than a once-a-year festival. This is our present and future."
It's been fascinating to watch the way the MG's music programming has evolved during Dacks' tenure. I asked him to what extent it was influenced by his own pre-MG music tastes and career.
"It was very influenced by my pre-MG tastes," Dacks replied. "My musical background is fundamentally as a DJ and beatmaker and, unlike any previous MG AD, I gravitate to music that is informed by that. Also, my journalism career has really helped me to value stories which drive outreach events like our History Series and higher-concept events like our Hugh Le Caine tribute a few years ago.'
Have Dacks' tastes changed during his MG years? "I knew very little about contemporary classical music before starting at the MG," he frankly admits. "I think that was a point of concern for the MG Board when I was hired. Over the past seven years I've made a point to explore this field, and to get to know more about new music in general. I've heard so much great music and met so many talented people that I think I at least trust my ears more, [know where to] get good advice/curation, know who's in the community and have a sense of what audiences gravitate to."
During his MG career Dacks has become known for his commitment to equity both on stage and off. What's left to do in this area?
"Seeking equity is a neverending struggle. I would say both MG staff and audiences should look and feel like Toronto," he says. Furthermore, "I would love to see accessibility improvements at our venue, more emphasis on projects developed in-house, a greater presence internationally and more Indigenous perspectives informing what we do."
Finally, I asked Dacks about his plans for post-MG adventures, career and otherwise. He began, "I am still planning a few projects in our 2020/21 season, so I won't be 100 percent done until the spring of 2021. I would like to move on from programming into areas that support the arts such as funding, cultural space making or teaching. Beyond that, I'd like to low-key start making music again and maybe learn music theory," he concluded, sounding like a musician itching to get back to the act of creating and shaping sounds.
On September 11, 2019 the MG announced it had hired two artistic associates for the new mentorship program it had talked about in the August 13 release: Olivia Shortt and Pratishtha Kohli.
Dacks explained the backstory: "When I knew it was time to step down, I wanted to pass on the knowledge and perspective I'd gained over the past ten years. As you probably know, most administrative transitions at the Music Gallery have been fraught, and I wanted to create something much smoother. When I started, I had to educate myself on the MG's milieu: I had no training or knowledge of artistic practices of the organization. I feel like a lot of organizational memory was lost in that transition, so I was determined not to let that happen now."
The artistic associates' posting extends for seven months, starting in September 2019. I asked Dacks what he hopes to accomplish in that time, how the mentorship program might affect programming and what will happen after March 2020.
"The associates will each program two concerts during X Avant, a concert during the season, plus an additional outreach event," Dacks answered. "They are going to help determine the theme and the vast majority of the programming of X Avant 2020, our flagship fall event. So this isn't an internship program; we are trusting them with the MG brand. While the artistic associate program ends in 2020, they will see their ideas through to production and will essentially be curators during the 2020/21 season helping the new AD get up to speed with their experience."
I then reached out via email to the two incoming artistic associates.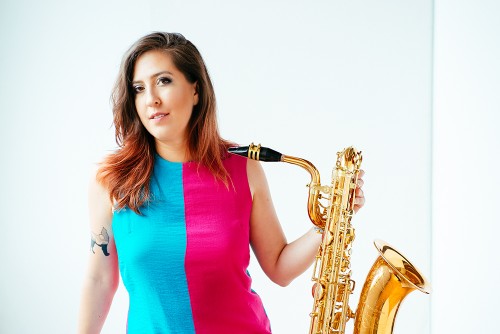 Olivia Shortt, Artistic Associate
Olivia Shortt recalled her first trip to the MG. "After moving to Toronto for music school, the Music Gallery was the first place where I attended a concert. I've been an audience member at numerous concerts at the MG and have also performed in several over the years, so it means a lot to be able to give back and be a part of the imaginative and forward-thinking programming at my favourite music organization in the city," she wrote.
How will she share responsibilities with her fellow artistic associate Pratishtha Kohli? "I think we were selected from the pool of applicants not only for our experience but for our ability to work in a team. Pratishtha has a wealth of knowledge that I'm so excited to learn from. It's pretty easy to share responsibilities with someone who shares similar values as you."
Judging from Shortt's bio, she's had extensive professional experience including as a saxophonist, composer, sound designer, activist, curator, teacher, actor and producer. I asked for a few highlights.
"One would certainly be my saxophone duo Stereoscope working with Robert Lemay in a number of capacities, including being presented by the 5-Penny New Music Concerts in Sudbury, Ontario, as well as performing on a new work Fragments Noirs that Robert had written for our duo. We recorded the work in partnership with poet Thierry Dimanche and SNOLAB (a neutrino lab in Northern Ontario). I don't know if I'll ever do anything as unique or as exciting as waking up at 5am to go into an elevator with miners two kilometres underground, having to change outfits a few times and have our saxophones and equipment go through the cleaning area called the 'car wash'. The music we recorded is now available as an album. I'll always treasure that experience.
"I also appeared in the Atom Egoyan film Guest of Honour that premiered this year at the Venice Film Festival and had its North American premiere at TIFF on September 10, 2019. Atom invited our Dialectica Saxophone Quartet to fill out the saxophone section of the high school band as actors in the movie. We recorded the music plus spent three days filming in Hamilton dressed up as high school teenagers, which was pretty hilarious considering I'm almost 30," she recalled.
How will Shortt's artistic practice inform her MG programming? "My work has always involved an interdisciplinary approach; I love working with artists in dance, theatre and visual arts especially. … My artistic practice is deeply rooted in my belief to push boundaries and the systemic issues that can be incredibly oppressive towards marginalized artists. The lens that covers all of the work I do incorporates equity and creating more equitable practices within my artistic practice. I come from a classical background and a world that can often be very insular and exclusionary, so that's why I've broadened my artistic practice to be more of an interdisciplinary approach."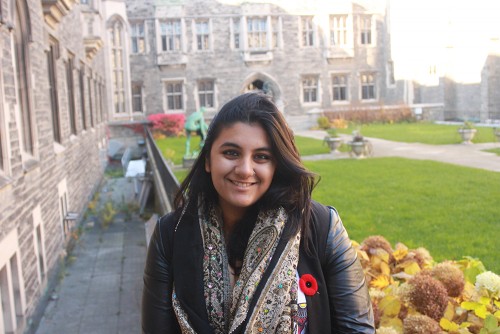 Pratishtha Kohli, Artistic Associate
Pratishtha Kohli, the other new MG artistic associate, also replied to my email inquiry:
"I'm really looking forward to working with David Dacks and Olivia to curate and research shows that are multidisciplinary and experimental over the next year," she says.
"I hope to learn about and contribute to every aspect of producing a show, from working with the tech team, to artist liaison, to managing day of operations for shows," she continued. "I'm going to … put forward my vision for what 2020 at the Music Gallery should look like, working with the local community around the 918 Bathurst space and connecting the local with some cool musicians from across Canada and globally."
Kohli reflected on the impact of her current studies. "I'm near completing my master's at OISE, U of T. Through my study in Adult Education and Community Development I have gained significant insights into equity-based learning and the importance of decolonization. As an immigrant, my self-journey of learning as well as my formal education and work in the arts have significantly impacted my understanding of grassroots movements, activist spaces and anti-hegemonic programming."
Working at the Aga Khan Museum recently, Kohli spoke of her job "supporting their diverse programming. My ultimate career highlight however (and I am just starting out) is founding The Tawoos Initiative. My co-founders, Haris Javed, Auoro Maksud and I wanted to create programming that highlights the independent, urban music that is being created in South Asia by individuals and also by groups in the South Asian diaspora."
How will her studies and artistic practices inform her MG programming? "I hope to bring the lens of decolonizing public spaces to the MG," Kohli stated, "and to work with the existing traditions that have existed at the MG, pushing audiences even more when it comes to actively listening to what is being created by Canadian, North American and global talent. A lens of equity, particularly one where women support women, is very important in my practice…."
Kohli wraps up our interview with an affirmation of music as a unifying and inclusive factor across cultures. "I hope to bring Indigenous, black and POC musicians to the forefront, focusing on each group's or individual's strengths, and connect them with one another through the language of music. As someone who has lived in a bunch of places growing up, with roots extending to each, I find we are able to find common ground regardless of what appearances or language may suggest."
Andrew Timar is a Toronto musician and music writer. He can be contacted at worldmusic@thewholenote.com.